It's Wedding Season
I may have used affiliate links for some of the items in this post. Using an affiliate link to purchase an item won't cost you any more money, but I may receive payment if you click on a link and make a purchase. For more information, visit the disclosures page.
It is definitely wedding season around here. My little sister got married a couple weeks ago, and I was at another wedding last weekend. Plus I have 2 more weddings before the end of the year.
With all the weddings that I've been to recently, and will be going to – I find it really interesting to see the differences between how the services are held. When I got married (in the Catholic Church) our priest made it a point to tell everyone in the wedding party that the wedding was a serious ceremony – and we should treat it as such.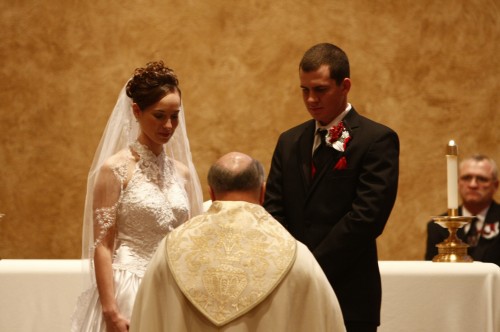 At my sister Kayla's wedding, while still an important ceremony, the mood was much more fun and relaxed. Their Pastor even mentioned Shane (my new brother-in-law) getting kicked off the church softball team during the service. Apparently, you can get kicked off if you never go to any of the games because you're doing wedding stuff.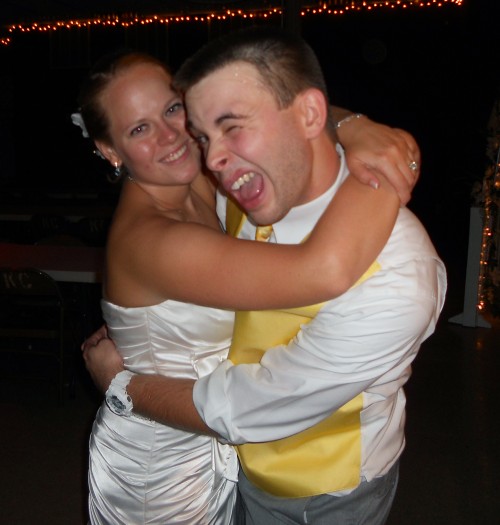 But the wedding that I went to last weekend was very different than any wedding I've ever been to before. I've always known that my friend's faith was very important to her, but some of the ceremony went a little far for me.
Strange Thing #1 – Discussing the Couple's Sex Life
You don't know if the couple hasn't had sex yet. You don't know if she likes to wear a feeldoe strapon. You don't know if they have an open mariage. And I'm pretty sure you don't want to know any of this. I'd have died of embarrassment if my preacher made a comment about the fact that I was wearing white because I was still pure and that myself and my (at this point) fiancee had taken steps to keep the purity in our relationship. Maybe I'm strange, but I'd prefer my priest not to talk about my sex life in front of all of my family and friends, especially if we liked the idea of being able to experiment with a different experience from time to time. It's just not something I would like to speak about in public, but that's just me.
Strange Thing #2 – Discussing Divorce as Part of the Ceremony
Even stranger than that – at least for me was the fact that the pastor also talked about divorce at their wedding — mostly because my first thought was if there are any divorced people there they would have been terribly offended by what he said. "Divorce would never be an option for [them] because divorce was caused by the hardening of hearts.. and a lack of faith in God."
Strange Thing #3 – Love, Honor, and Obey (Always)
My friend and her husband also wrote their own vows, which was very sweet. I'd never been to a wedding where the couple wrote their own vows before. It was beautiful and very personal, but I guarantee you that my vows would never have said that I would obey my husband and regard to him in all things as head of the household. Don't get me wrong, I love my husband very much, I just don't always agree with him, and I do let him know when that happens.
Normal Things
My friend and her husband are now happily married and on their honeymoon, just like every other couple I've ever seen get married. Her dad even gave her away.
And I understood everything at the reception. It's hard to misunderstand dinner and dancing.
No matter what I didn't quite understand about the service, it was lovely, and it was very much them. I'm sure that they will be happy in their future lives together, too. They really were made for each other.
The one thing I'm still trying to figure out what type of service it was. Without knowing anything about it, I would call it a Christian Fundamentalist wedding service. I may be entirely wrong about that – and if I am, I'd love to know what type of service it was. I'm always interested in how other people celebrate and observe their faith.