Getting and Staying Organized
I may have used affiliate links for some of the items in this post. Using an affiliate link to purchase an item won't cost you any more money, but I may receive payment if you click on a link and make a purchase. For more information, visit the disclosures page.
As some of you may remember, way back in March I decided that I was going to make my goal for Lent to get my house clean and organized. I even got started on that process. Unfortunately, life got in the way, and I wasn't nearly as successful with my goal as I wanted to be. However, thanks to a few free weekends, and some help from my mom I've been able to really get my house clean and organized.
The first weekend that we worked was spent on the living room. The majority of that time was actually used to organize my massive bureau/cabinet/bookshelf piece. I have a ton of stuff – especially books. You might have seen some photos of the bookcase shelves in my recent post about things I've learned in life. Well, thanks to some help from mom, I was able to take some other items off those shelves, and actually use them for books again. I sent several Rubbermaid tubs of items home with mom for a yard sale, and got my space back in a much more organized fashion.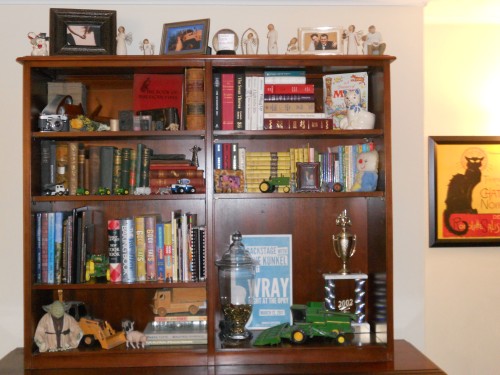 I'm storing DVDs in one of the larger drawers of the bureau section, as well as in a section below. I apparently also have a lot of DVDs. Perhaps I should convert them all to digital and store them on a flash drive or 2.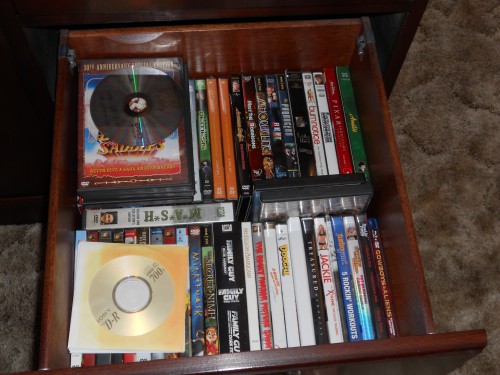 And yes, I know that our DVD collection is quite eclectic. I mean, who else do you know that your have both Rocky Horror Picture Show and The Secret of Nimh in their collection. The movies that didn't fin in this drawer have been stored in the cabinet section, along with my scrapbooks, magazines, CDs and miscellaneous computer items.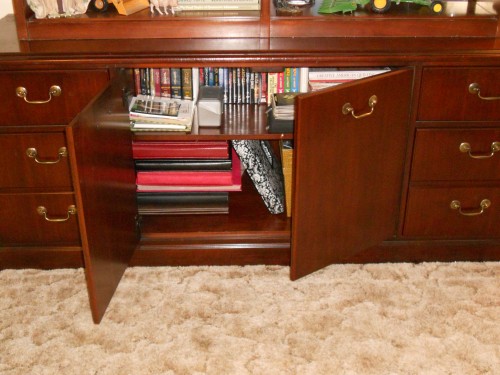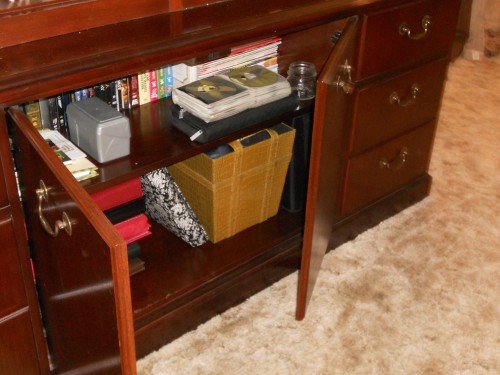 I'm super proud of how my computer items like cords are stored. They're all inside that pretty green basket in their very own individual Zip-Loc Bags. The organization process, also gave me 3 other empty drawers. One now contains the old VHS tapes of Show Choir events, another contains all the manuals and instructions for the appliances and electronics in the house, and the 3rd has been used to organize my greeting cards.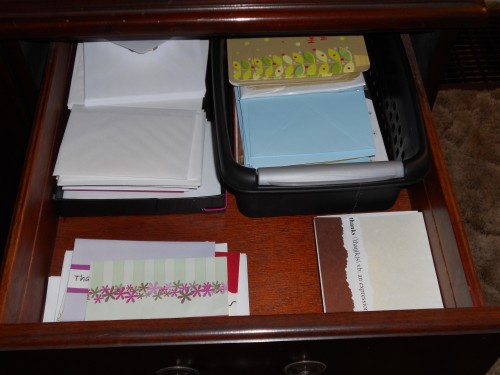 That seems to be another item I collect. I have tons of blank greeting cards for most any occasion. And a completely empty drawer + a basket have allowed me to organize all of them. And going through them I also discovered that I shouldn't need to buy Christmas cards ever again.
Now, while that bureau and bookcase were the main part of cleaning and organizing the living room, they weren't the only things. I'm happy to say that there are no longer random items sitting on the floor in my living room.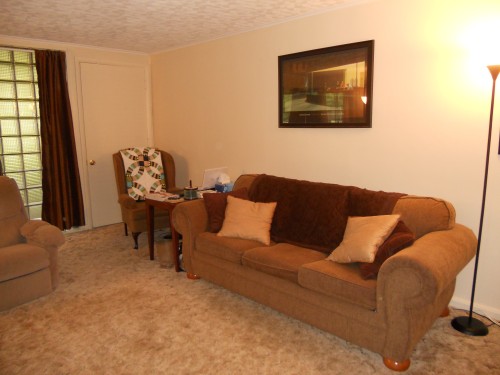 Not even cat toys. They have their very own basket now – at least when I don't need it to take a pie somewhere.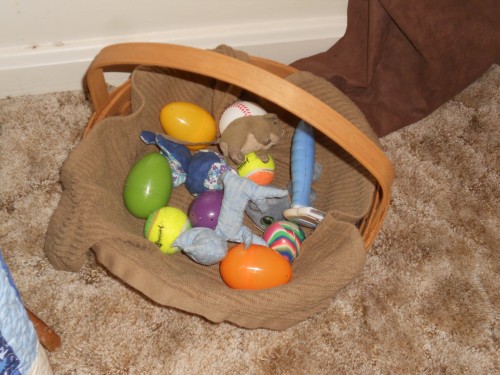 This process has also allowed me to do a better job of displaying some of my quilts. The one that my cousin Susan made for me as a wedding present is on the back of my computer chair. I absolutely love it, and I'm thrilled that it goes with the decore so I can prominently display it.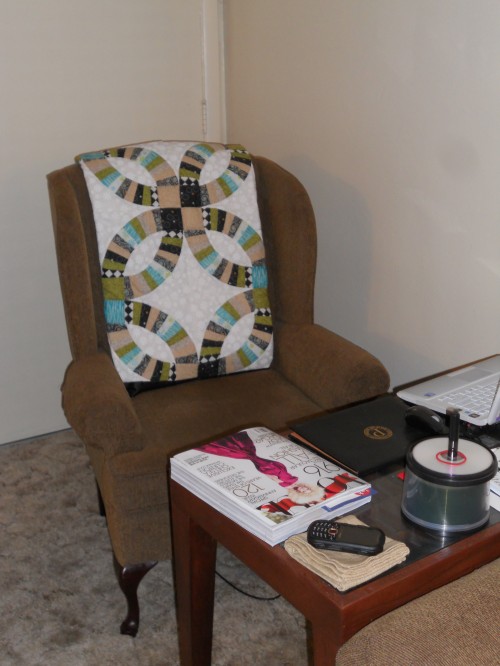 I also have my mom's old quilt rack with a few of my other favorite quilts on it.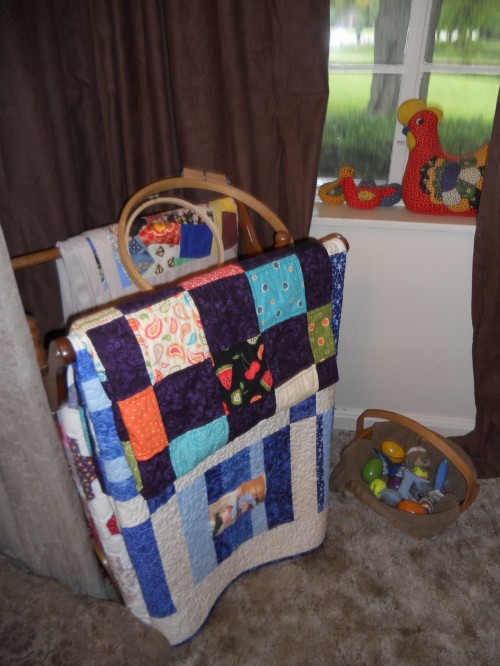 It's currently holding the Sassy Charm Quilt, and the finished top for my Crazy Quilt, along with the Grandmother's Flower Garden quilt that my great-aunt Essie bought for me when I was born (I love this quilt that the ladies at the church hand pieced and quilted), and the memory quilt that I made for my grama Ruby with family photos (It was given to me after she passed). I also have her stuffed chickens I used to play with when I went to visit as a child. They live in my window now.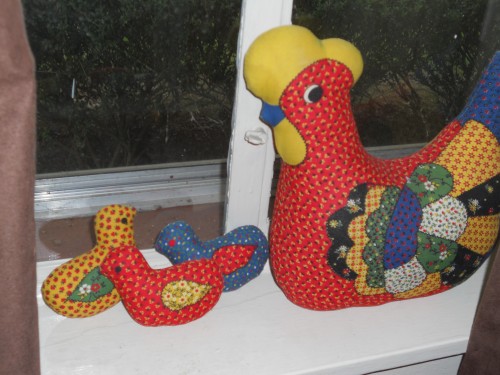 The last thing I did in this room, was try to make it look a little less cluttered by taking some of the stuff off the walls, and then I thought I would splash out a little and purchase a new ceiling light. I searched for a wide selection of ceiling lights to brighten up your home and managed to find the perfect one! This topped everything off after I had reorganized and now you could see everything much more clearer too.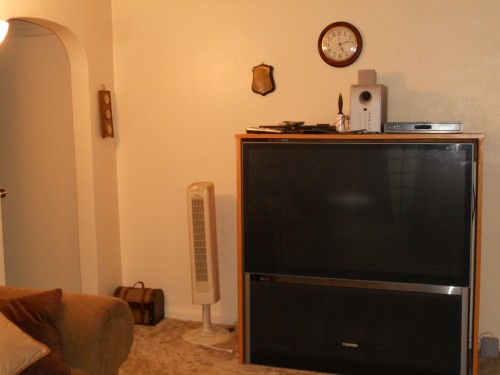 That's one rather large space down – but I'm open to suggestions on making it still more clean and organized. How do you organize your home?