Shiny HSTs Chevrons and an HST Tutorial
I may have used affiliate links for some of the items in this post. Using an affiliate link to purchase an item won't cost you any more money, but I may receive payment if you click on a link and make a purchase. For more information, visit the disclosures page.
Thanks to my attempt to avoid finishing the (not) Purdue quilt top last week, I got myself started on another – much smaller – project, using my fabrics with gold metallic ink.  For this project, I'm planning to use several fat quarters of fabric, along with a couple larger pieces of fabric I had in my stash.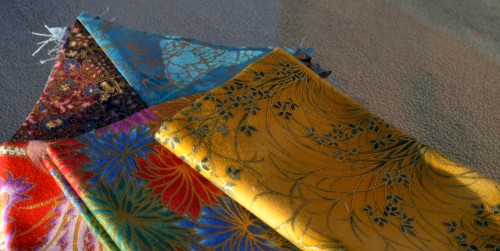 I'm cutting my fat quarters into 6-inch strips, and cutting those strips into squares.  That means I get 9 squares from each fat quarter.  I'm matching each of my squares with one from the larger pieces of blue fabric, and using an HST technique which allows me to get 4 HSTs from each pair of squares.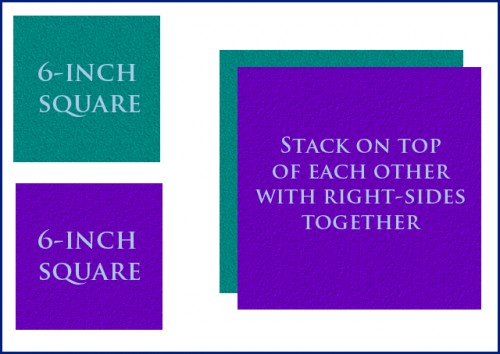 I start with my 2 squares of fabric and place them on top of each other, with right sides facing.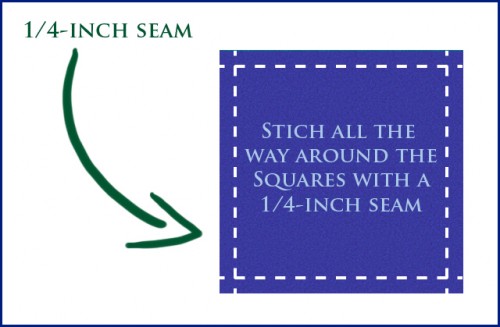 I then sew a 1/4-inch seam all the way around the square.  I generally do multiple squares at a time using the chain stitching method.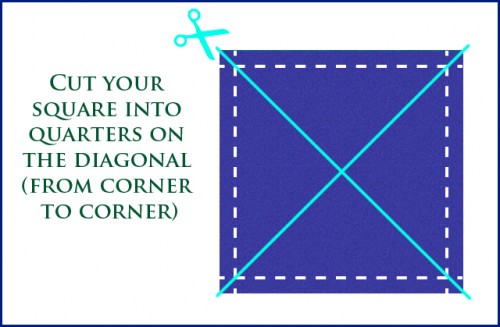 One I have all of my squares stitched up, I take them over to my cutting mat and – using a ruler and my rotary cutter – I cut each square into quarters on the diagonal.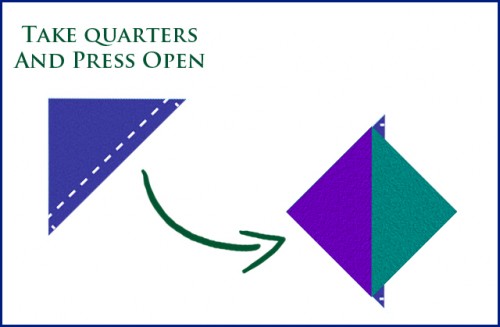 The final step is to press all of my squares open.  I always press my seams toward the darker (or thicker) fabric.  You can then cut off the little triangular bits of fabric at the corners or leave them.  I find it easier to match corners when they have been removed.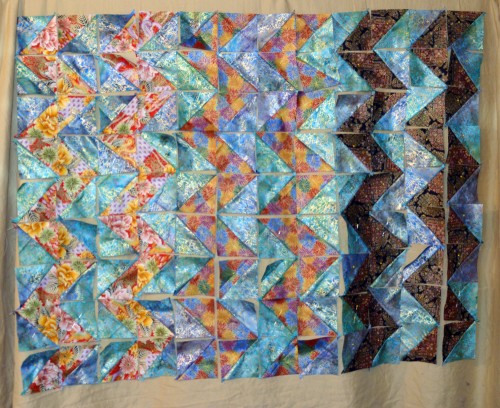 I've already pieced blocks from three fat quarters and have pinned them onto the sheet.  I like the overall look of the chevrons, but I may adjust the order of the colors still.  The finished quilt will probably be pretty small (crib or lap sized) because I don't have a lot of my background fabric.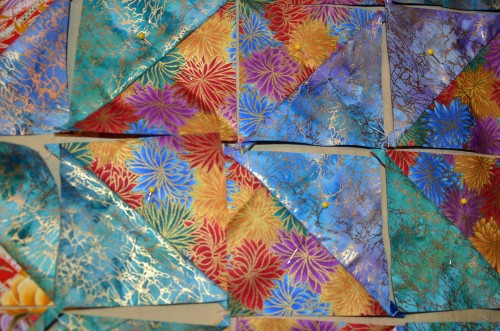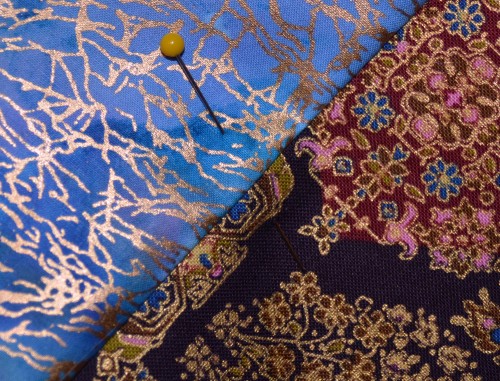 I'm also looking for a cotton with an entire all over metallic print.  Let me know if you have seen one.  I'm wanting to use it as a border.
Linky Parties we're participating in:
Mop It Up Mondays at I Should Be Mopping the Floor
Craft & Tell at Cherished Bliss