Projects in Progress
I may have used affiliate links for some of the items in this post. Using an affiliate link to purchase an item won't cost you any more money, but I may receive payment if you click on a link and make a purchase. For more information, visit the disclosures page.
Ever feel like all your projects are getting away from you?  That's how I feel right now.
I'm about halfway through making the Aeroplane Bag by Sew Sweetness.  Once it's done, I plan to use for a couple things.  It will be a great bag for carrying my sewing machine if I ever get around to taking classes.  And, I also want to use it as a bag for carrying my workout clothes and shoes with me, so I can workout during lunch.
I've also finally gotten around to starting the quilting process on my latest crazy quilt.  I've got the batting and minky backing attached and cut down – thanks to Cluck Cluck Sew for instructions on how to make quilting with minky a little easier.  Of course, having it attached isn't very much.  I still need to figure out how exactly I am going to quilt it.  I'm working on my basic home machine, so that leaves out a lot of the more fun designs – at least for now.  Maybe I'll try some nice crosshatching on this one.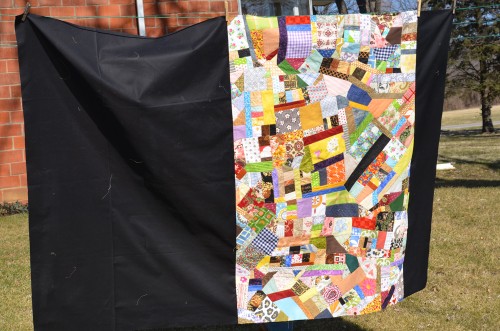 After the crazy quilt is quilted, I still have one more finished quilt that needs quilting – my Fiery Labyrinth quilt.  I have a feeling that I will end up sending this one out, because I really want something flowing with lots of curves for the quilting motif on this one.  I think it would contrast well with the block design.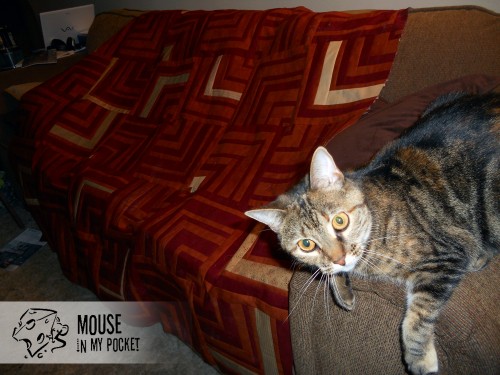 I also have a quilt top in progress, which shouldn't take long to finish, if I can just make myself work on it.  I know I'll love the Rosalie quilt top when it's finished, but I'm just not feeling it right now.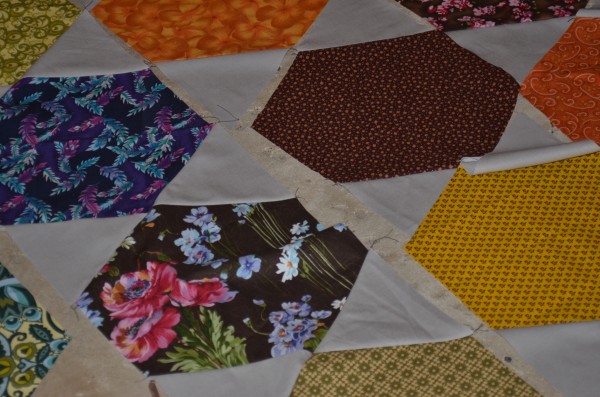 I've also picked up some beautiful road cone orange linen to use as a backing fabric for my string theory quilt.  I'd love to send this one out for quilting, since I think it would look great with some pretty rounded designs, but we'll see what happens.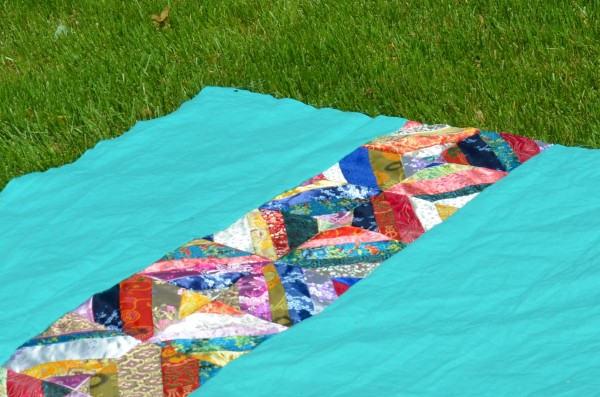 Waiting in the wings, I have fabric all picked out for Katy's Impromptu QAL over at I'm a Ginger Monkey.  I'm super excited about this QAL.  It's the first one I've ever done, and it's going to give me something to do with the layer cake of Comma that I had just waiting for the perfect project.
I also have to admit that I have another yard of lycra, in a gorgeous shade of green waiting to be turned into a second swimsuit.  I really love the first one I made, but my new fabric has a bit more stretch, so I think it will be easier to get on and off than my first version.
How many projects do you have in the works?