His and Hers Quilt
I may have used affiliate links for some of the items in this post. Using an affiliate link to purchase an item won't cost you any more money, but I may receive payment if you click on a link and make a purchase. For more information, visit the disclosures page.
I've had this idea for a while now about taking fabric from Amy Butler's fabric lines and pairing it with fabric from Parson Gray's lines.  Why?  Because they are married and I thought it would be interesting to see how this couple's very different lines played together.
I started with a trip to my local fabric shop, Let's Sew, and picked up a half yard each of four prints from Amy Butler's Alchemy Line, three prints from Parson Gray's Curious Nature fabric line, and one from his Seven Seas line.  From there, I picked up 1/4 yard each of four kona solids in coordinating colors, two blue and two in berry shades.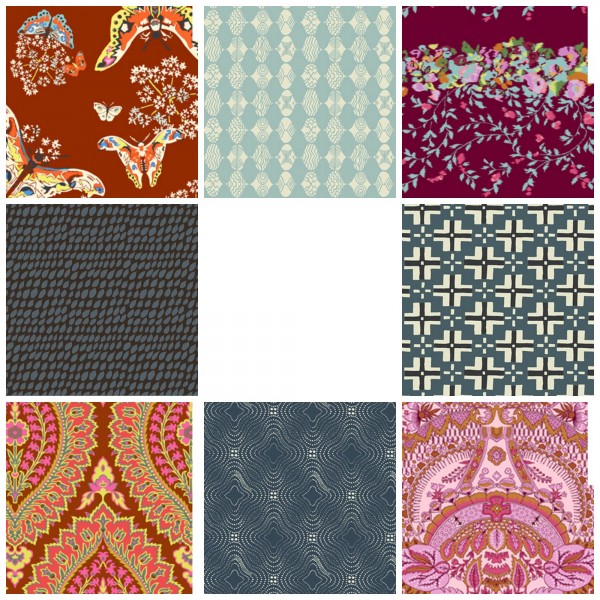 I loved the blues together, and I loved the berry shades together, but I really didn't know how the fabrics would really end up working together. The Parson Gray fabrics have a geometric style with limited colors, while the Amy Butler prints are more fluid in their design, and incorporate a wider range of colors.
For the quilt pattern, I wanted to stick with something fairly simple that would keep the focus on the fabrics and not the design. So I decided to pull out the cutting sheets for Cluck Cluck Sew's Squares and Strips bed quilt.  You may remember that I made the quilt before in blacks and golds as a Christmas gift for my sister.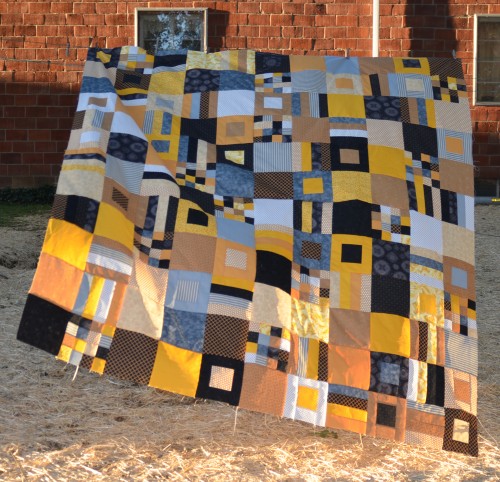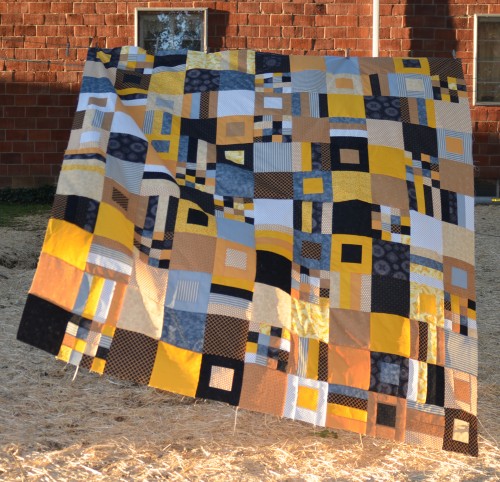 The quilt has 4 different blocks, a solid block (I had 40 of these), a square in a square block (I ended up with 18), a strip block (I had 20), and a postage stamp block.  Once all the blocks were made, it was as simple as laying them out and sewing up rows.  I ended up with a slightly smaller quilt than the first version. My version of the quilt, which will be a great throw for the couch comes in at 8 blocks wide and 10 blocks tall, making the finished top 64×80″.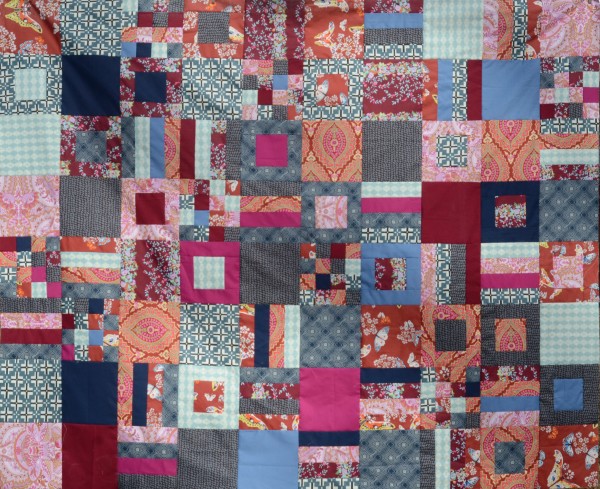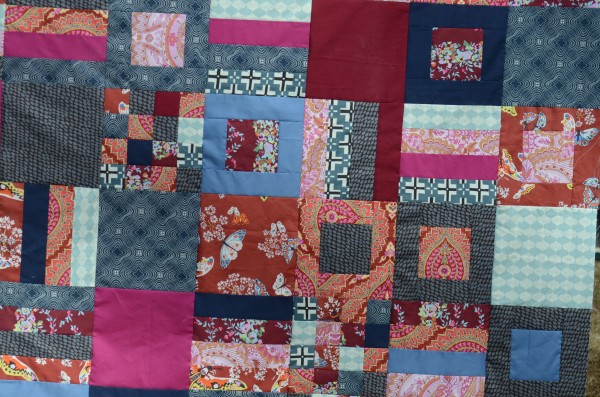 To compensate for the pinks on the front, and keep the quilt from becoming girly, I decided I really wanted something blue for the backing. I was really happy when I came across an amazing Timeless Treasures batik in 106″ backing width.  The print is Xtonga in the Beluga colorway, which somehow is exactly the shades of solid blue that I used on the front of the quilt.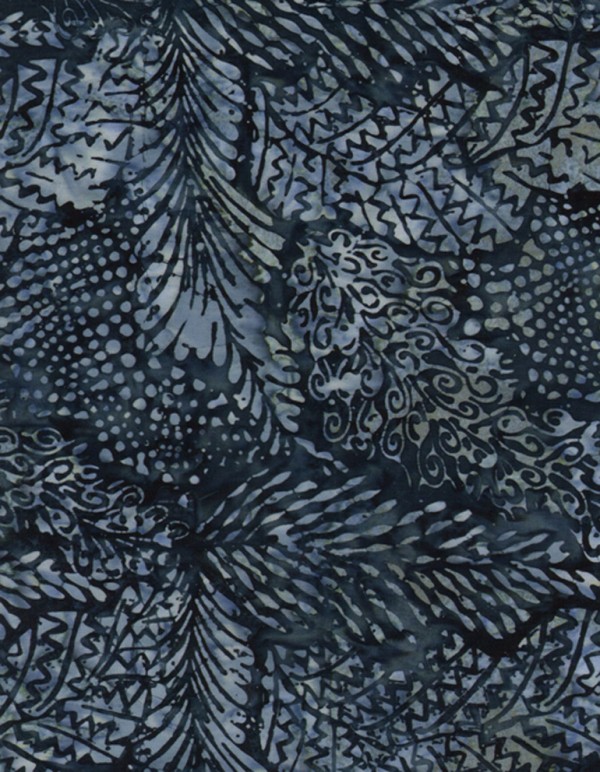 I sent the last version of this quilt top out to be quilted on a long-arm, but I've already got a big stack of quilts that need long-arming.  Plus, it's difficult to come up with a good color to quilt a top with such contrasting colors.  My solution?  Some very utilitarian stitch-in-the-ditch quilting.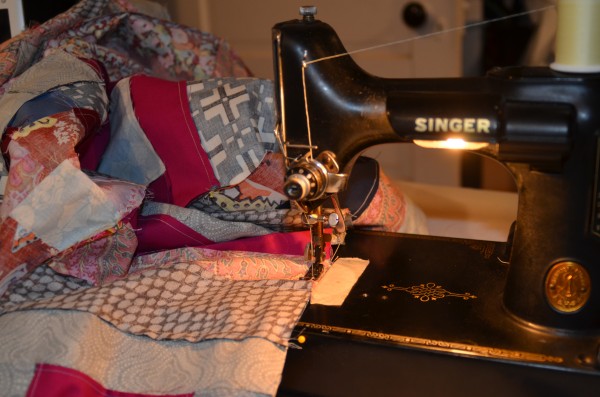 I ended up quilting this across the rows, which should hold the quilt together well, and took very little time to do.  The binding was made with some of my left over fabric from the backing.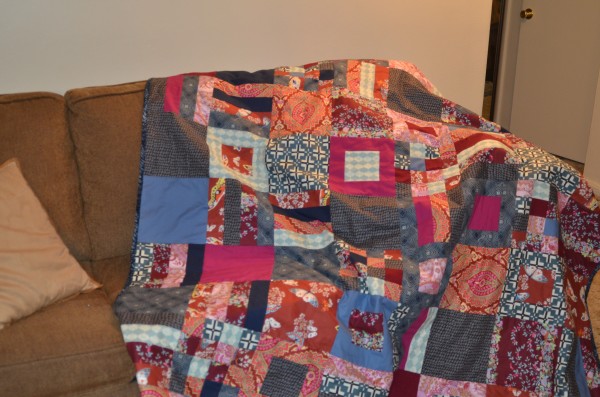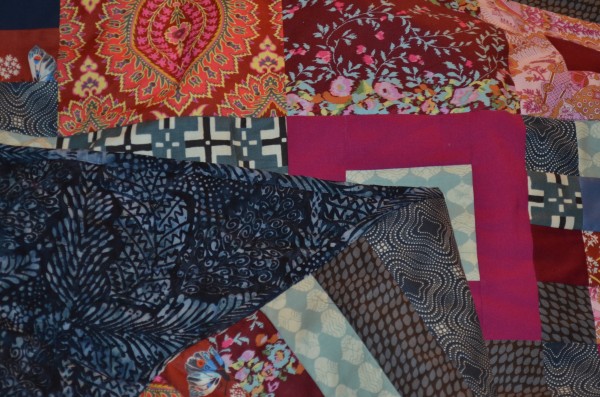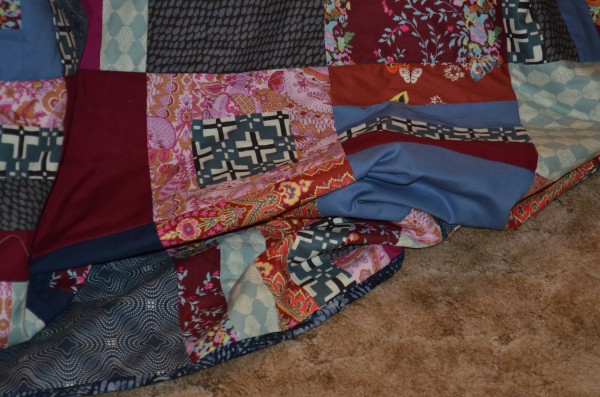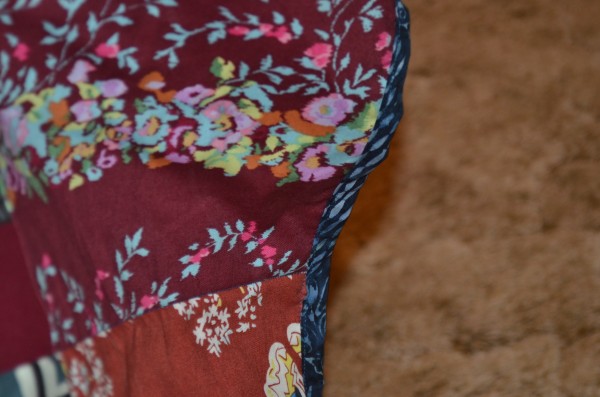 Overall, I'm really happy with how this quilt turned out.  What do you think?
Sharing over at:
Take a Look Tuesday at Sugar Bee Crafts