Isa's Baby Quilt
I may have used affiliate links for some of the items in this post. Using an affiliate link to purchase an item won't cost you any more money, but I may receive payment if you click on a link and make a purchase. For more information, visit the disclosures page.
Today I am sharing the very first post from Guest Blogger, Anna. I'm so excited to share some of her work with you.
---
Isa's baby quilt was inspired by one of Andrea's HST quilts.
Isa knew the baby was a girl but she didn't want pink "girly" things. As she is an organic agronomy consultant, I chose scraps from my stash that speak of ecology: fish, plants, animals, bugs–even some old scraps of "One World" fabric.
All the nice fabrics I have were gifted to me by online friends about 10 years ago. Unfortunately that forum no longer exists, but I have made some beautiful things from fabrics that are unavailable in Spain. I mixed and matched the half-square triangles, and added 6 picture squares using the bigger animal prints in a diagonal stripe.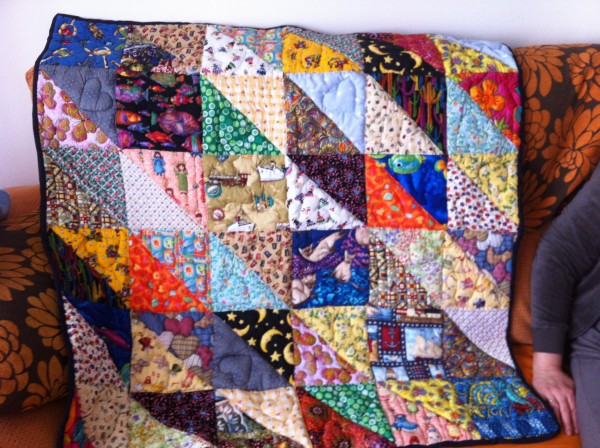 For this quilt, I hand quilted around the big motifs it giving the quilt a bas-relief effect. This was intensified by the synthetic batting that I used. It was rather a bear to work with, but I am happy with the result as it's slightly thicker and much puffier than cotton or wool would be.
Sharing over at: 
I Quilt Thursdays at Pretty Bobbins
Needle and Thread Thursdays at My Quilt Infatuation
TGIFF at Quilt Matters
Finish It Up Friday at Crazy Mom Quilts