Project Quilting – Trees
I may have used affiliate links for some of the items in this post. Using an affiliate link to purchase an item won't cost you any more money, but I may receive payment if you click on a link and make a purchase. For more information, visit the disclosures page.
I'm so excited to finally get a chance to participate in Project Quilting. This is it's 6th season, but I just discovered it at the end of last season, so I didn't get a chance to participate. The idea behind project quilting is to complete a new quilting project each week.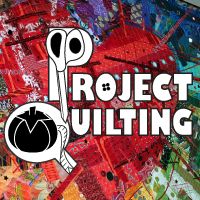 The first project theme this season was "trees".  When I first saw the theme I thought that it would be difficult for me because I had just made a small quilt with trees for the "Baby It's Cold Outside" themed off season challenge in December. But as I was trying to decide what to do, I noticed a deer silhouette I had printed off to make another mini quilt in December.
While I never got around to that one, the deer gave me some wonderful inspiration for the tree themed mini I created. Deer belong in forests, and what could be prettier in winter than a forest of birch trees?
So, I started going though my fabric. That's actually another challenge I'm making for myself. I don't want to have to purchase anything for any of the Project Quilting projects this season. My goal is to work entirely from my stash. That includes fabric, batting, embellishments, binding, the works. So far, so good, but it's a long way to go.
For this project I used Painter's Canvas in Platinum for the sky and binding, Kona snow for the ground, Architextures Words in navy for the deer silhouette, and some unlabeled fat quarters from JoAnn's for the trees and backing. I'm quite happy with how they played together.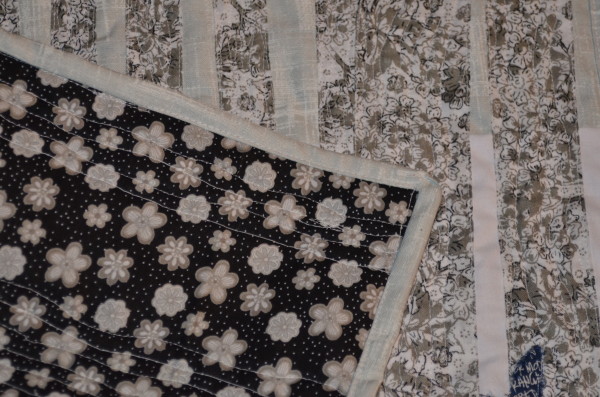 For this mini quilt, I used both traditional and raw-edge machine applique. I free motion quilted the project on my Singer Quantum 2623 at my home in Princeton, IN.  The finished quilt, which I have titled "Winter Solitude" is approximately 15″x17″.
Sharing over at:
Project Quilting at Persimon Dreams, Thank God It's Finished Friday at Quilt Matters,
Show and Share at Coastal Charm