Project Quilting – Orphan Blocks
I may have used affiliate links for some of the items in this post. Using an affiliate link to purchase an item won't cost you any more money, but I may receive payment if you click on a link and make a purchase. For more information, visit the disclosures page.
Today was supposed to be another #NaBloPoMo post, but I figured that talking about a finished quilt is a perfectly good reason to postpone it until tomorrow.  Instead, I wanted to share with you my finished project for this week's Project Quilting Challenge.  So without further ado, I present to you "Annie."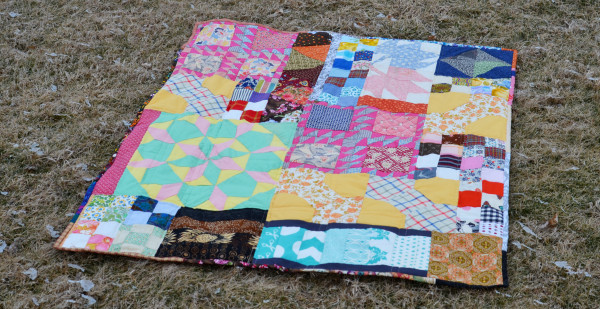 This week's theme was Orphan Blocks and UFOs- hence the name "Annie".  I loved that this was the theme, because using up blocks that have already been completed and finishing up UFOs doesn't take a ton of time, which meant a bigger project than I've made the last couple weeks, not huge, but bigger.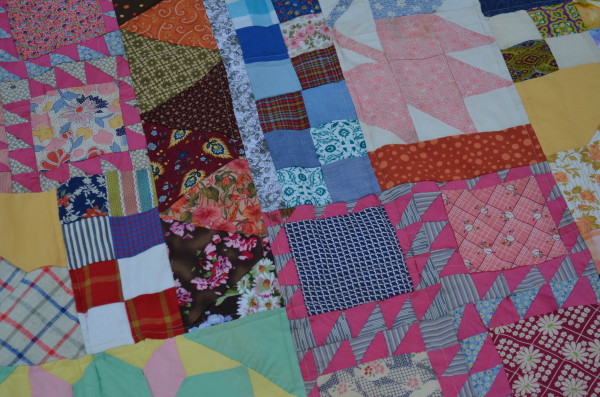 I started the process by pulling out my Orphan Block box, and seeing what I had.  I had a few blocks that I had made, but most of my orphan blocks were pieced by someone else and included in packages of scrap fabric I had purchased.  It was kind of cool to get to look thru all of those old hand pieced blocks again.  The only problem with the hand pieced blocks is that most of them were odd sizes, so I had to trim them down to make them work.  That means a lot of the blocks aren't perfect representations of what the blocks should be, but that did make for a more interesting design.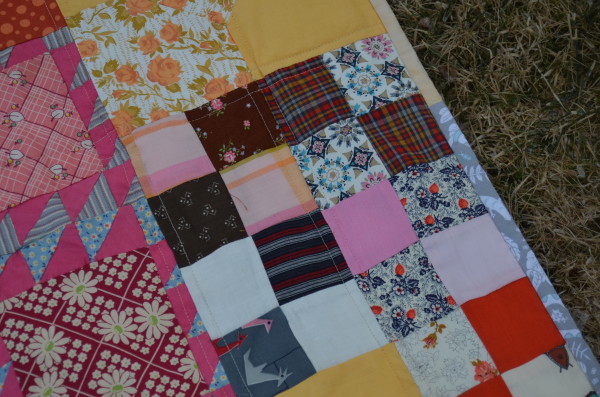 For the back of the quilt, I wanted a simple solid background, but when I was pulling fabric, I ran across a linen I had sewn some of my grandma's doilies to in an attempt at recreating a quilt I had seen online and loved.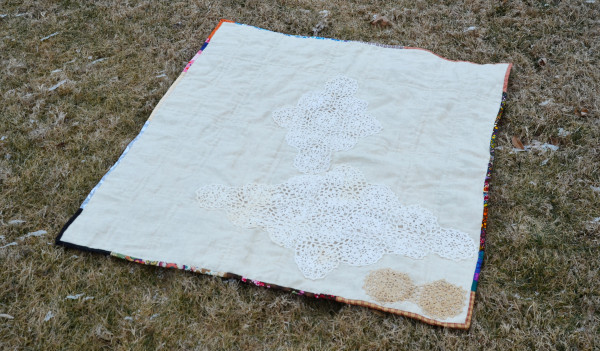 At the time, I wasn't happy with my design, but when I pulled it from the pile, it seemed perfect to make a UFO quilt top into the back of my orphan blocks quilt. And best of all, that makes this little quilt double sided.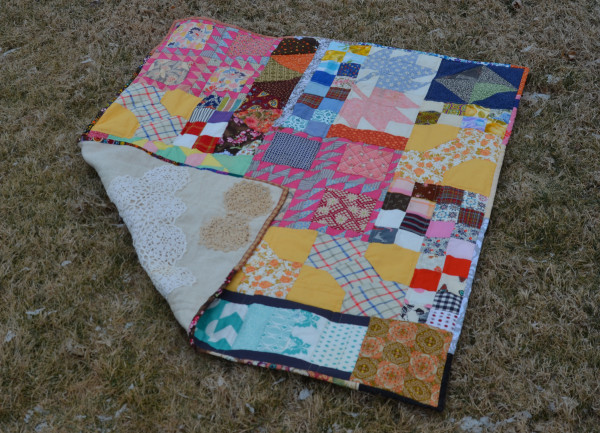 I quilted up this project using Aurifil thread to go with the linen. Using the same shade on both sides also solves the issue I'm having with the quilting looking odd on my other projects.  The quilt was bound with left over binding scraps and 2.5″ strips. It finishes at approximately 36×42″ and will make a great lap quilt.
What do you do with your orphan blocks?
Sharing over at:
Finish It Up Friday at Crazy Mom Quilts, Thank God It's Finished Friday at Quokka Quilts,
Project Quilting Orphan Block & UFO Challenge at Persimon Dreams, Oh Scrap! at Quilting 
is More Fun than Housework