Creation Quilt – #AnnaInSpain
I may have used affiliate links for some of the items in this post. Using an affiliate link to purchase an item won't cost you any more money, but I may receive payment if you click on a link and make a purchase. For more information, visit the disclosures page.
This week we're sharing another project by my wonderful internet friend, Anna in Spain! 
More from Anna below:
---
This is the quilt I think of with the greatest satisfaction. The "design" itself is no big deal, just appliqued hearts, but the fabrics are wonderful, considering that they are all scraps that were gifted to me about a decade ago when the WorldWideQuilting Bulletin Board was active. 
The recipients were both Christian believers, and as I pulled out random fabric scraps I realized I had enough to tell the creation story from Genesis 1.

The Blocks
The earth was without form and void (swirls)

The Spirit brooded on the face of the waters (butterfly)

Creation of the "firmament" to separate the waters from the waters. (clouds)

Creation of the Earth itself.
Fish
Plants
More Plants
Three blocks were also made to represent creation of the "greater and lesser lights", stars, sun and moon etc.
Row 3 represents the fish, birds of the air, animals etc. (I couldn't resist the bugs!) The Teddy Bear fabric was as close as I could get to "man" in my stash.
As you can see, I made two identical "halves" so the quilt is never "upside down" (and because I didn't have more variety of fabrics to play with.)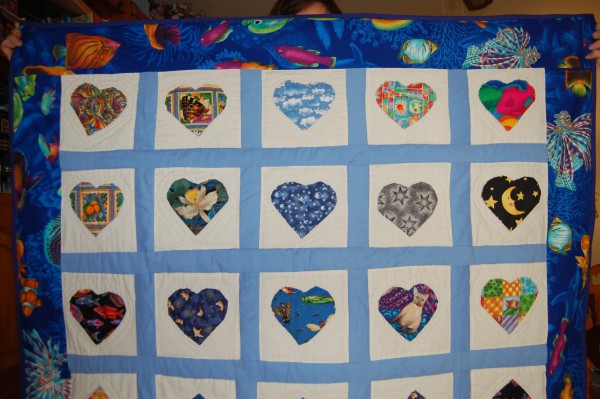 I used pale blue for sashing, partly because it was what I had enough of, but also to represent the sky and water…and the bright fish fabric was just so beautiful.
Sharing over at:
Sew Darn Crafty at Sew Many Ways