Jefferson Starship Mini Quilt
I may have used affiliate links for some of the items in this post. Using an affiliate link to purchase an item won't cost you any more money, but I may receive payment if you click on a link and make a purchase. For more information, visit the disclosures page.
I finished up the first of the Focus Through the Prism challenges today.  The block to incorporate this month was the Friendship Star.
My version of the quilt, "Jefferson Starship," features a patchwork design, with multiple friendship stars in different sizes, and a hand embroidered alien.  The fabrics used in this quilt are Cherrywood Fabric in Violet from the ROYGBIV set for the Focus Though the Prism challenges, Washi Tape fabric by Rashida Cole Hale, Tula Pink Foxfield fabric for FreeSpirit, and miscellaneous stash fabrics in purples.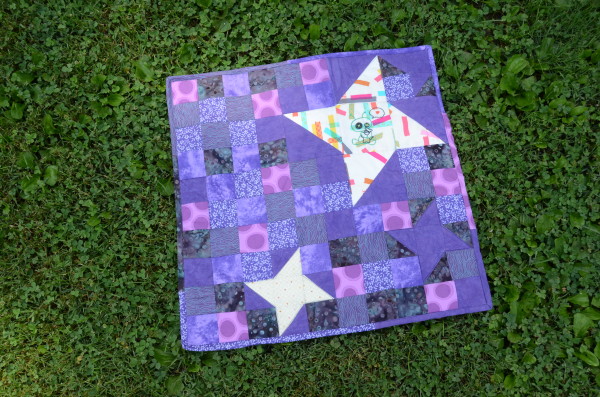 The alien embroidery inside the large friendship star is the hand embroidery version of Abducted by Urban Threads.
I'd love to know what you think of the quilt. And be sure to stop by Persimon Dreams to see the other entries for this month.
Sharing over at:
Project Quilting Focus Through the Prism Challenge at Persimon Dreams, Let's Bee Social at 
Sew Fresh Quilts, Fabric Tuesday at Quilt Story