26 Weeks
I may have used affiliate links for some of the items in this post. Using an affiliate link to purchase an item won't cost you any more money, but I may receive payment if you click on a link and make a purchase. For more information, visit the disclosures page.
Did you know that 26 weeks is an important mark for viability of a baby?  At 26 weeks, if something goes wrong in the pregnancy, baby's survival rate is 90%.  And I'm 26 weeks pregnant now, which is super awesome considering all the scares the doctors have given us about Spot's size.  Of course, she is still small, and we want her to bake as long as possible.  So let's hope there aren't any complications that require her making an early entrance.
Instead, I need to be getting on setting up Spot's baby registry (which I hope to do this weekend), and actually getting her room set up.  I've got a regular bed and a rocking chair in there, but that's about it.  Spot still needs a crib, and a dresser/changing table for all the cool stuff she will hopefully be getting. And, I need to clean out the closet in her room, which I have been using to store my winter coats.  I haven't the slightest idea where they are going to live, as I purposefully made my closet small, so I wouldn't buy to many clothes, and the spare room in my closet is currently housing maternity clothing.
In more exciting news than closet organization, Spot made out like a bandit this Christmas, which is pretty impressive, as she isn't even here yet.  She got some really fun books, toys and clothes from a few of her favorite family members.  I'm looking forward to her getting to wear some pun filled onesies and dress like a Starship officer.  We will also get to read some cool books about the Force, and have fun with some stuffed animals.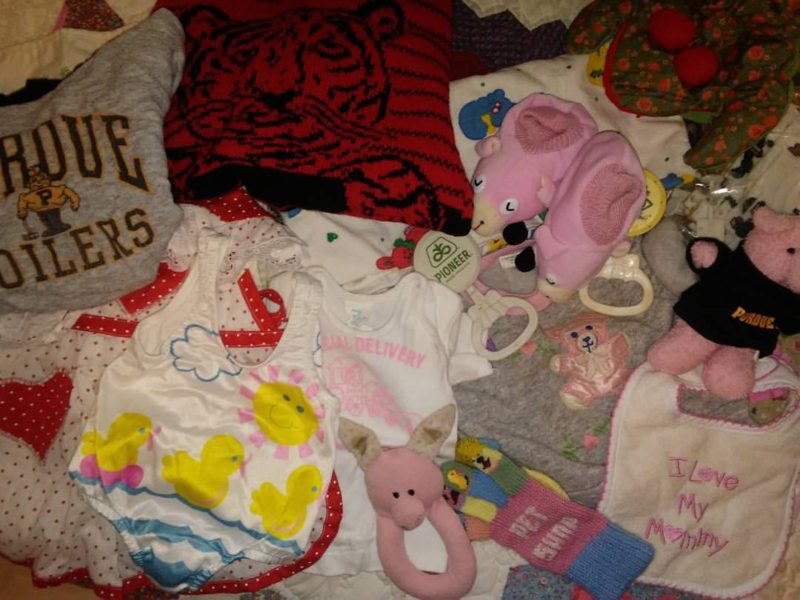 I've also started going through the boxes of my baby things that my mom sent with me when I got married and moved out of the house.  The sheer number of stuffed animals this kid will have is ridiculous, but she's also going to get to wear some of my old clothes.  I'm particularly excited that she should be about the right size to rock the duck swimsuit this summer.
So, aside from all of these things she already has, and registry basics, like bottles and sheets, what is one thing that I should definitely register for?