Fashion Friday – Fashion With A Cause
I may have used affiliate links for some of the items in this post. Using an affiliate link to purchase an item won't cost you any more money, but I may receive payment if you click on a link and make a purchase. For more information, visit the disclosures page.
There is a lot of crazy going on in the world right now.  Most days when I get up, I feel like I should ask for a damage report, a la Captain Picard in Star Trek.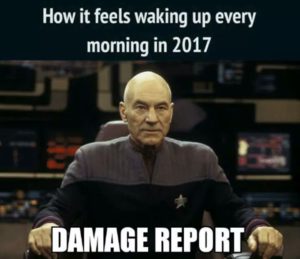 That's why I'm glad to so many designers and fashion companies that I already support have found ways to help me support things I care about.  Just this week I was able to make 2 purchased to help support Planned Parenthood.  Please note that while I am pro-life, I am also pro-Planned Parenthood. 
It is a great health resource for women, especially for women who can't afford the type of insurance I have that allows me to go see any OB/GYN I want, covering family planning resources like birth control, and also providing for excellent pre-natal care.
That's why I was so excited to be able to purchase a nice sports bra from Naja.  If you're into brands with a purpose, you will love Naja. They have a great ethos supporting women and making eco-conscious products. But today I want to talk about their current campaign where you can buy one of their sports bras and part of the proceeds go to Planned Parenthood. You can get in on this special deal by visiting http://activeist.co/.
Of course, if you're not the athletic bra type, there are some other great options for supporting Planned Parenthood right now.  My favorite is probably the "Cat Power" tee designed by Cori Dantini. 
She is one of my favorite surface artists, having designed fabric collections that I have used in several of my quilts.  And her little cat is a fun play on the "pussy hats" from the Women's March that occurred in January.  These tees are available for purchase through Booster, but only until February 13th, 2017.  That means you need to get on it if you want to rock your own Cat Power tee.
Have you ever purchased an item of clothing to support a cause you care about?  What was it?  I'd love for you to share below.