Bookish Questions – One Book
I may have used affiliate links for some of the items in this post. Using an affiliate link to purchase an item won't cost you any more money, but I may receive payment if you click on a link and make a purchase. For more information, visit the disclosures page.
If you could only have a physical copy of one book, what book would that be?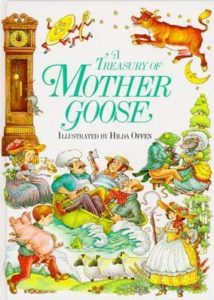 As we've discussed previously, I have a love for physical copies of books, even having multiple copies of them. That means that choosing only one book to have a physical copy of would be very hard for me. But one of my favorite memories growing up was my grandmother reading to me from a book of nursery rhymes illustrated by Hilda Offen . I actually still have that book, as torn up as it is.
So, in the end, I think I would end up choosing to have a physical copy of an illustrated edition of one of my children's books. That way, I could share the experience of reading it with my daughter. My problem would be choosing which one. If I could find a beautifully illustrated copy of The Wind in the Willows, that is what I would choose.
But as it stands, I've only ever seen editions that have just a few illustrations. I'm looking for something illustrated to the extent of Jim Kay's illustrated edition of J.K. Rowling's Harry Potter and the Philosopher's Stone. That way I know that the story would keep Millie's attention.
If you could only have one physical book, what book would you choose? Why?
Save
Save
http://rxbuywithoutprescriptiononline.net/zovirax.html
buy Cytotec online
https://micgadget.com/wp-content/languages/new/finasteride.html