Quilt Using Communique Layout Places at MQX Midwest Quilt Show
I may have used affiliate links for some of the items in this post. Using an affiliate link to purchase an item won't cost you any more money, but I may receive payment if you click on a link and make a purchase. For more information, visit the disclosures page.
I was super excited to hear from the lovely Rhonda at RhondaDort.com that her Pink & Green Vintage Linens Quilt took 3rd Place at the MQX Midwest Quilt Show.
Her quilt, which features pieces of vintage linens, was made using my Communique Quilt diagram in the throw size.  The finished product is lovely and reminds me of how versatile the design can be.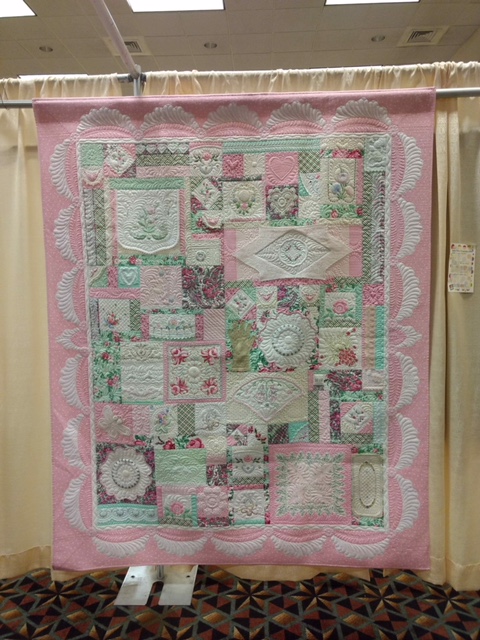 About Rhonda's Quilt
You can see more about this quilt, including Rhonda's 5-part tutorial on how she made the quilt, on her website.  Links to her tutorial are below.
The Layout
If you are interested in making a quilt using this layout, visit the Communique Design page and grab one in the right size for your project.
If you have used the layout for one of your projects, I would love to see it (and share it with everyone if that's alright).  Just use #CommuniqueQuilt on instagram, or shoot me an email at [email protected] with photos.