WIP Wednesday
I may have used affiliate links for some of the items in this post. Using an affiliate link to purchase an item won't cost you any more money, but I may receive payment if you click on a link and make a purchase. For more information, visit the disclosures page.
It's been ages since I've really had the chance to do any sewing or quilting. I've hardly touched my sewing machines since Milli was born, but with two new babies due in the family in the next couple of months, I've gotten my sewing machine back out.
Now, Mil is still much too little to be hanging out in my sewing space, so I had to move the basics upstairs to work. For me, that was a small cutting mat and rotary cutter, which I set up on my kitchen table, and my vintage Singer Featherweight, which I set up on a small TV tray, some thread, pins, and a pair or embroidery scissors.
The only real problem that I had was in my attempt to layout my quilt on the floor before I started. The cat wanted to lay in the middle of it, and Milli was a bit too eager to help, so I ended up not being to work from an initial layout, but that's OK. Mil was a big girl and brought me pieces of fabric from the scattered piles on the floor. It actually worked out surprisingly well, it kept her busy and away from the needle on the machine, which she was fascinated to watch.
I actually got an entire quilt top pieced last night. It will be for baby Turner, who I know is going to be a little girl. It is pieced from a charm pack of Strawberry Jam prints by Corey Yoder for Moda Fabrics, and a bright blue polka dot from Moda's Dottie Line. I picked both of these up at one of my favorite local fabric stores, but if you can't find them at your local store, Fat Quarter Shop online is always well stocked.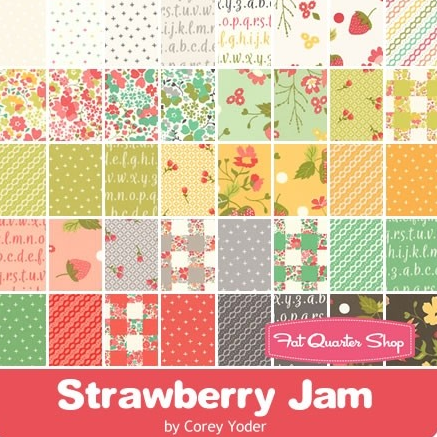 For the layout, I went with a simple patchwork design, but flipped it on point.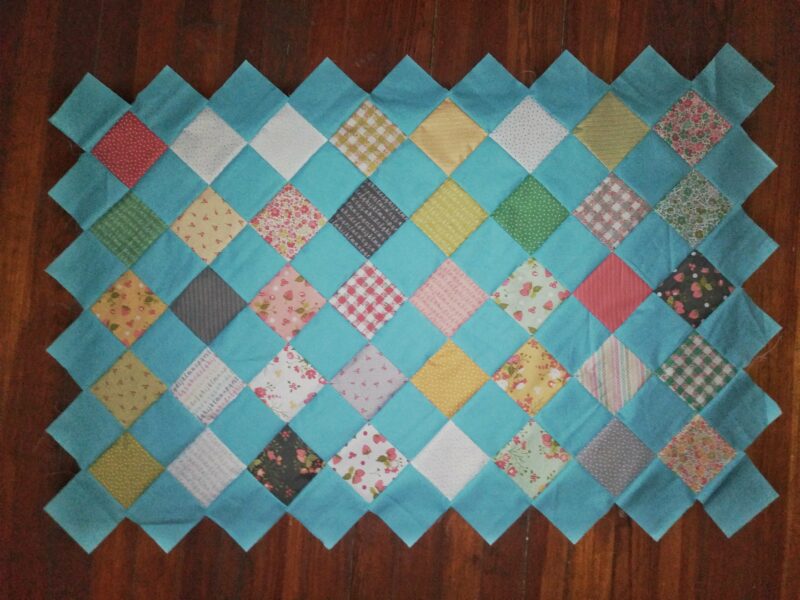 I'll be using dream cotton for the batting, and the Strawberry Jam Plus Yardage in multi for the backing. I just have to decide to how I'm going to quilt it now.
What have you been sewing lately?