Making Progress
I may have used affiliate links for some of the items in this post. Using an affiliate link to purchase an item won't cost you any more money, but I may receive payment if you click on a link and make a purchase. For more information, visit the disclosures page.
I'm slowly but surely making progress on my latest crazy quilt.  These are usually quick sews for me because it's simple not to match up corners.  However, thanks to some inspiration from Gloria McKinnon and her book Glorious Embellishing, I'm taking my time with this quilt top and adding some real crazy quilt detailing.
In line with the ladies that Gloria likes to use for the centers of her blocks, I went and found myself a print that would be great for fussy cutting centers.  The Victorian Dream Steampunk Panel Fabric by Roberta Morales for Quilting Treasures.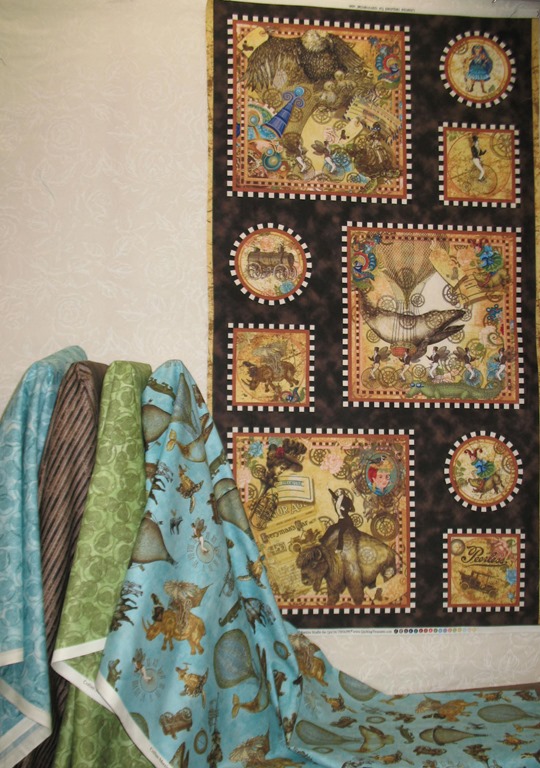 The panel has some amazing artwork on it, and the larger blocks can easily be divided into 3 or 4 block centers.  For the blocks that I have finished sewing together, I have used the top 3 panel images so far.
This block set was the first one sewn together, and the colors it uses are an inspiration for the rest of the quilt.  It contains none of the Steampunk fabric, but does make use of quite a few of my vintage laces.
You will notice that the sections of this block set are divided with a bias plaid.  The plan is that each of the blocks will be dividing in this way, using the bias tape as faux sashing.
This 12 inch block features artwork of an eagle with her chicks from the Steampunk panel fabric.  I took some time with the embroidery on this one, spending over 5 hours embroidering the details of the eagles.  I think the time was well spent, as I am happy with how it turned out.  And I also got a lot of practice on feather and catch stitching.  This block also features gold lace and some dimensional trims.
I'm also working on a few other blocks right now, which feature the fabric from the Steampunk panel.
Now, if I could only find a way to work on this project without making a complete mess of my sewing space.
What is the most time you've spent on detailing a quilt?  What are your favorite embellishments to add to a sewing project?