WIP Wednesday
I may have used affiliate links for some of the items in this post. Using an affiliate link to purchase an item won't cost you any more money, but I may receive payment if you click on a link and make a purchase. For more information, visit the disclosures page.
It's  WIP Wednesday again, and surprisingly enough I've actually got another work in progress to share.  I'm super proud of myself getting started on this month's Project Quilting Focus Through the Prism Challenge so early.  Of course, I need to get it done and out of the way, so that I can get a baby quilt made for my little nephew to be.  He's not going to be here until October, but as busy at the next couple of weekends will be, I'd really like to get it started.
But back to projects that I'm actually working on – this month's Project Quilting challenge was the flying geese block.  Interestingly enough, I had never made a flying geese block before I started working on this mini quilt.  They were a lot of fun and super easy to make.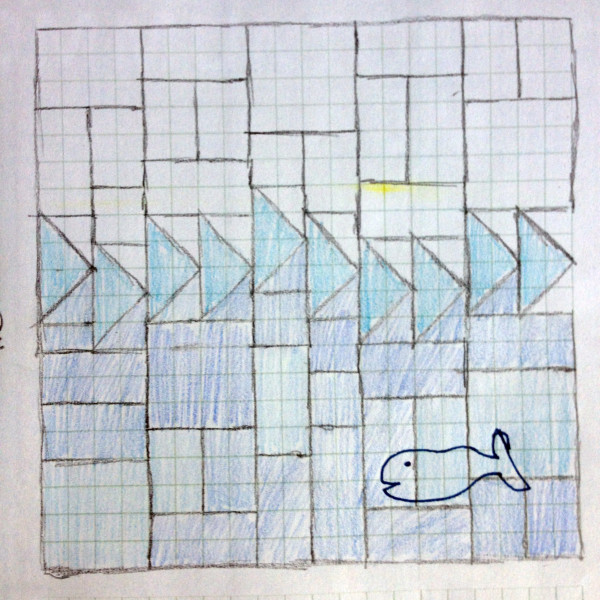 After thinking about the block for a while, I decided that turned sideways, the shape reminded me a bit of waves, and I still had my blue fabric to use, so I went with an ocean theme for this month's challenge. I started, as always, by designing out my quilt on a grid.  Having the design down on paper really helps me to make the best use of my time and materials in the sewing room.
With my top done, I'm ready to start the embroidery work, which is a cute little beluga whale designed by Wild Olive.
Do you ever add decorative hand work to your quilts? What projects are you working on right now?
Sharing over at:
WIP Wednesday at Freshly Pieced, Let's Bee Social at Sew Fresh Quilts