Huxley's Monster Quilt
I may have used affiliate links for some of the items in this post. Using an affiliate link to purchase an item won't cost you any more money, but I may receive payment if you click on a link and make a purchase. For more information, visit the disclosures page.
A couple weeks ago, I shared with you that I was working on a quilt for my soon-to-be nephew, Huxley.  But somehow, between getting a cold, and generally being a slacker I didn't get around to finishing the quilt until late last week. Which is pretty sad, when you realize that all I actually had to do was some basic quilting and binding.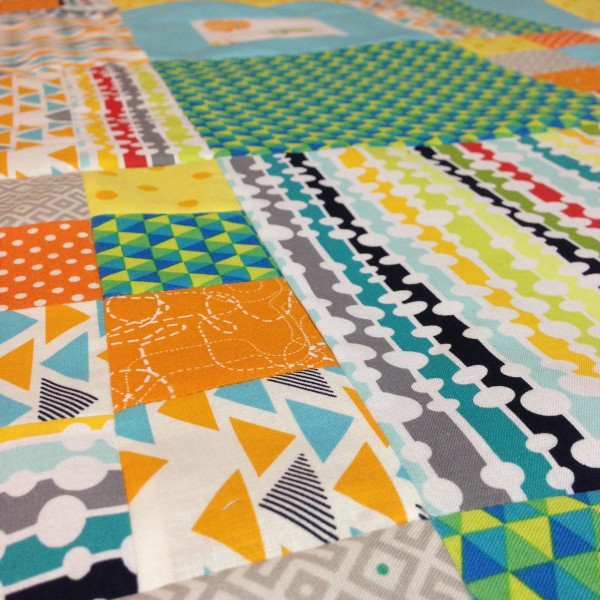 It turned out OK, though.  I still got it done before Huxley arrived. As a matter of fact, we're still waiting on him.  In the mean time, I want to share a few photos of his new quilt with you.
Because of the fussy cutting, I didn't have enough yardage left from the crib sheet to do the back, so the back is done in simple polka dot yardage.  The binding on this quilt is a scrappy binding made from some of the leftover fabric from the quilt top. I'm pleased with how the quilt came out, and can't wait to give it to Huxley.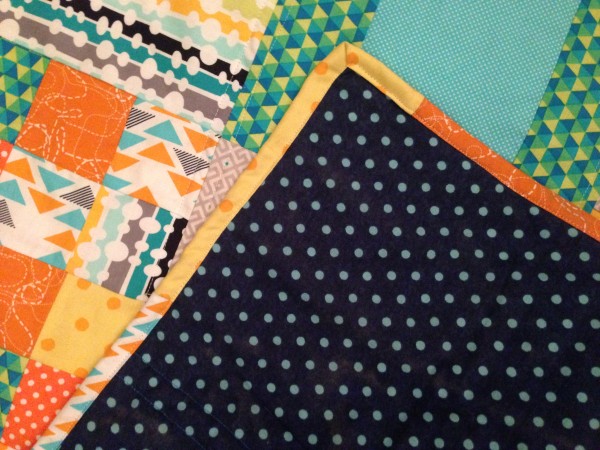 Do you make quilts as baby gifts?  If you do, do you have a go to pattern, or do you try to customize the quilt for each baby?
Sharing over at:
Let's Bee Social at Sew Fresh Quilts, Fabric Tuesday at Quilt Story, WIP Wednesday at
Freshly Pieced, Thank Goodness It's Finished Friday at A Quarter Inch from the Edge,
Finish it Up Friday at Crazy Mom Quilts