Communique Quilt
I may have used affiliate links for some of the items in this post. Using an affiliate link to purchase an item won't cost you any more money, but I may receive payment if you click on a link and make a purchase. For more information, visit the disclosures page.
I'm very excited to share my latest finish with all of you! A brand new king size bed quilt!  I finished piecing the top ages ago, but it just recently made it's trip to the long arm quilter. I got it back in July, just before our move, so I didn't get around to binding the quilt until last week.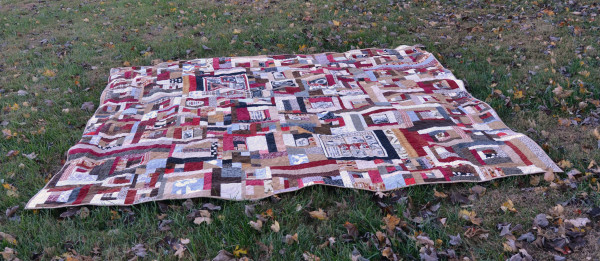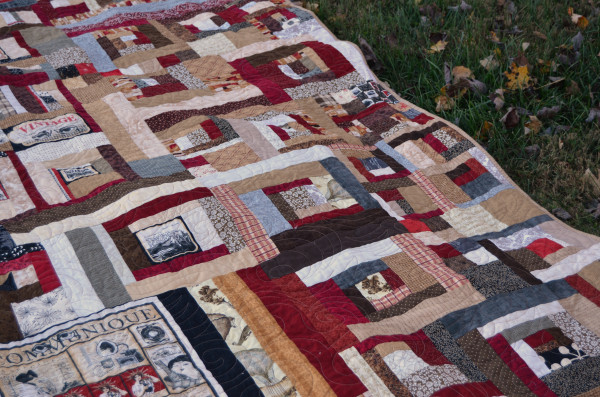 My quilter added a nice overall pattern to the quilt, which works well this this scrappy quilt.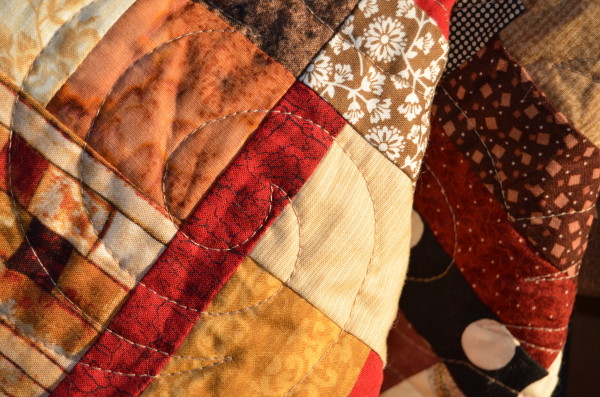 I pieced strips for the back of this quilt, using up almost all of my left over fabric.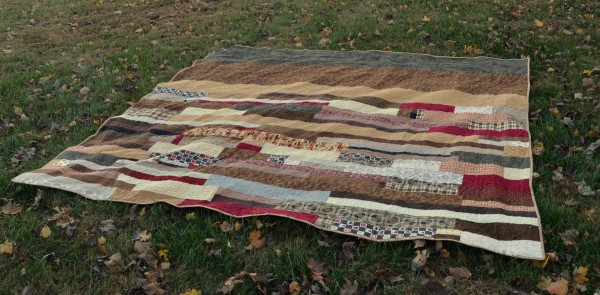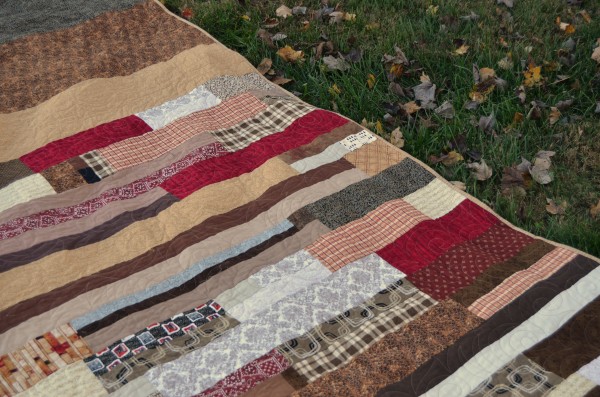 This was nice for me, because it allowed me to use up many smaller pieces of fabric that I had on hand, instead of having to spend money on more backing fabric.  And, it also means that this quilt is double sided, so I can flip it either direction I want on our bed.
This quilt was designed on simple graph paper into blocks of varying sizes, some which contained fussy cut pieces from a panel.  Each block was then pieced as a scrappy log cabin (excluding some 4″ blocks, which were solid, 4-patch, or HSTs).  The overall quilt finishes at 96″x100″, which makes it a perfect fit for our king sized bed.  With the panel as the focal fabric, I matched up a wide selection of fabrics from all the local quilt shops, as well as from my stash, to give the quilt a scrappy look.
What is your latest quilting finish? Do you prefer to make scrappy quilts, or quilts with more structured color layouts?
Sharing over at:
Fabric Tuesday at Quilt Story, Sew Cute Tuesday at Blossom Heart Quilts, Let's Bee Social
at Sew Fresh Quilt, WIP Wednesday at Freshly Pieced, Thank Goodness It's Finished Friday
at Quokka Quilts, Finish It Up Friday at Crazy Mom Quilts