Yellow Snow Mini Quilt
I may have used affiliate links for some of the items in this post. Using an affiliate link to purchase an item won't cost you any more money, but I may receive payment if you click on a link and make a purchase. For more information, visit the disclosures page.
November is the final month for the Project Quilting Focus Through the Prism challenges.  This month's block was the Snowball, a super simple block that can be used in a lot of interesting ways.
For this month's quilt, the only color I had left to work with was Yellow.  And, of course, the first thing I thought was "Don't Eat Yellow Snow," which became the title of my quilt.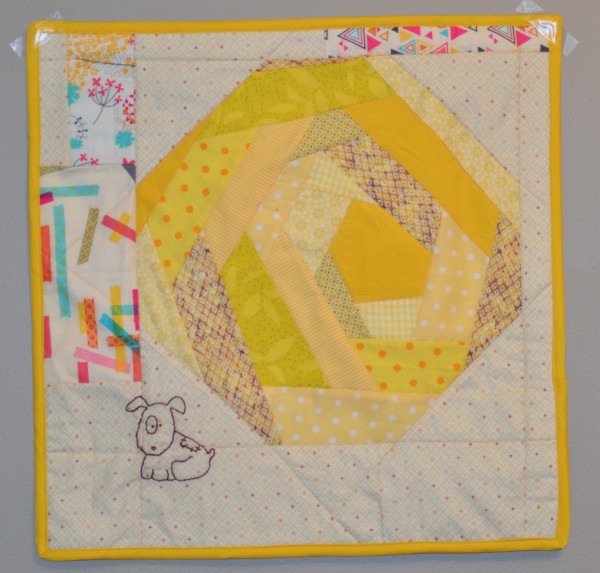 For my quilt, I created one 15″ snowball block, using a simple crazy quilting/log cabin technique, for the center of the snowball, and then I pieced the rest of the background to create a quilt that incorporated all of the background fabrics I have used in the other Focus Through the Prism mini quilts.
For the embroidery this month – my own little addition to the challenge – I added a cute little dog called "Patch" from Urban Threads.  He's pretty adorable, and makes my title "Don't Eat Yellow Snow" a little more true.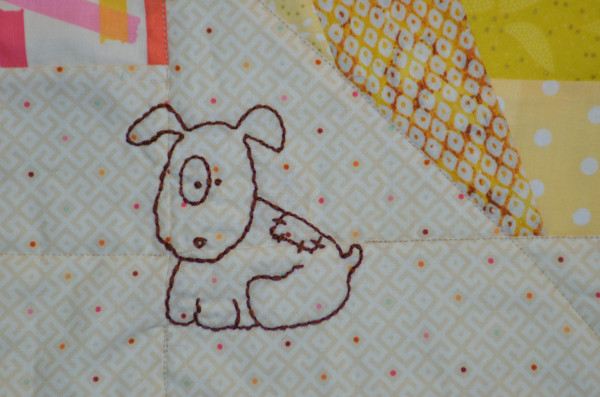 I love how this quilt came out, and will how well all of the quilts ended up looking together – more on that in a future post.
For now, I'd love to know if you've been participating in the Focus Through the Prism challenges, and if you did, which one was your favorite?
Sharing over at:
Project Quilting Focus Through the Prism Snowball Challenge at Persimon Dreams, Needle
and Thread Thursday at My Quilt Infatuation, Finish It Up Friday at Crazy Mom Quilts, 
Thank Goodness It's Finished Friday at Quilt Matters