Another Baby Quilt
I may have used affiliate links for some of the items in this post. Using an affiliate link to purchase an item won't cost you any more money, but I may receive payment if you click on a link and make a purchase. For more information, visit the disclosures page.
It seems like the only quilting I get around to doing lately is making baby quilts for people. I don't mind that at all, but I have been seriously slacking in the amount of time I put into my sewing projects lately.  That's why I'm glad that my sister requested a make a baby quilt for one of her friends.  It gave me a project with a hard deadline, so I *had* to go sew. I don't normally do "commissioned" quilts, but since it was a small project and my sister asking, I gave it a go.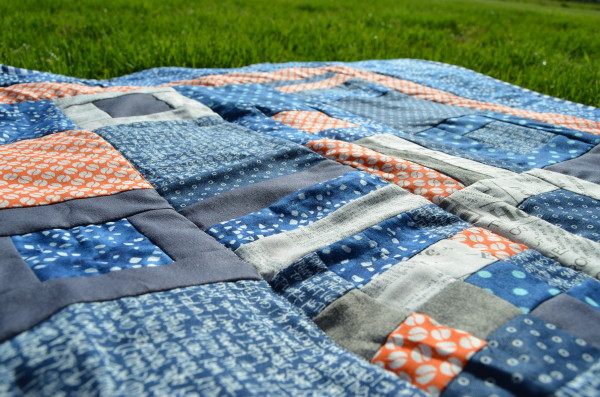 The only restrictions I had for this project were the color palette for the baby's room, which is navy and gray with pops of orange.  It was a fun modern palette to work with.  I decided to go with another Squares and Strips quilt, because it's such an easy pattern, that seems to give me great results.  (See the others here, here, and here.)  The only difference, was that this time, I cut my block size in half – making the blocks finish at 4-inches. I think it ended up being a good choice for a baby quilt.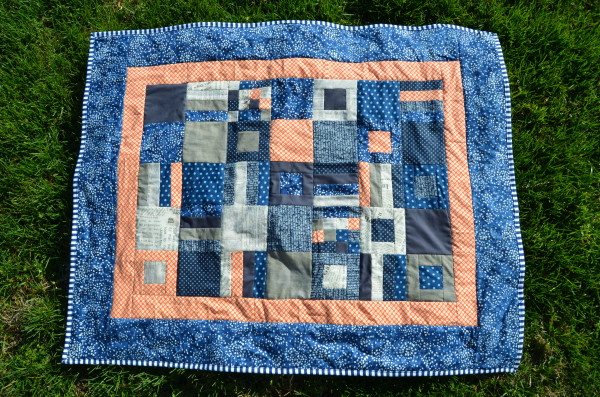 For this quilt, I was able to pull all of the fabrics, except for the backing from my stash. I used a total of 9 different fabrics for this quilt: 4 gray, 4 navy, and 1 orange. Cutting the same number of pieces that I would have had I been making the larger blocks, I had 38 blocks; enough to make a 5×7 grid (with a few to spare). That gave me a 20×28-inch pieced center.  From there, I added 2 borders, bringing the total size of the quilt to 32×40-inches. I backed the quilt in a light grey dot, and bound it in a navy and white stripe.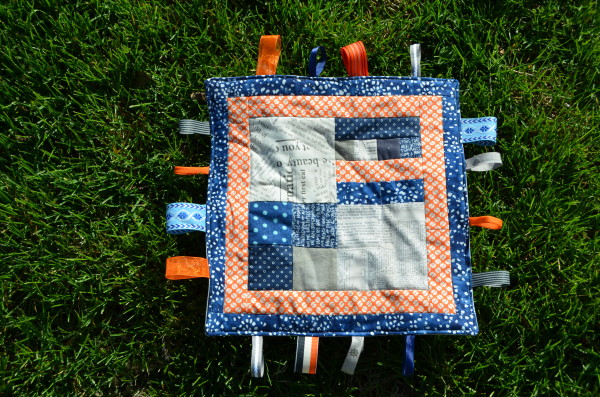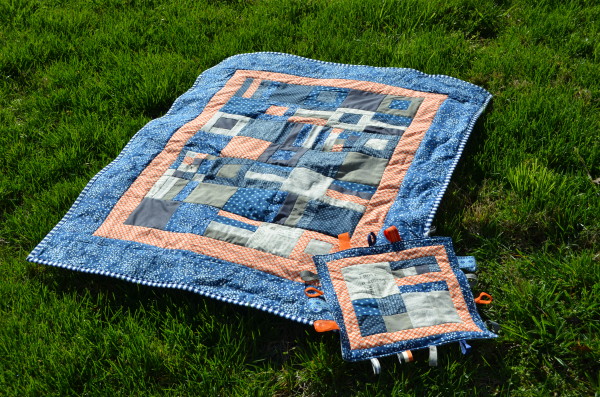 Then I took my scraps, and some of my ribbon collection and made a matching taggie blanket to go with it.