TBB Asks – Love Edition
I may have used affiliate links for some of the items in this post. Using an affiliate link to purchase an item won't cost you any more money, but I may receive payment if you click on a link and make a purchase. For more information, visit the disclosures page.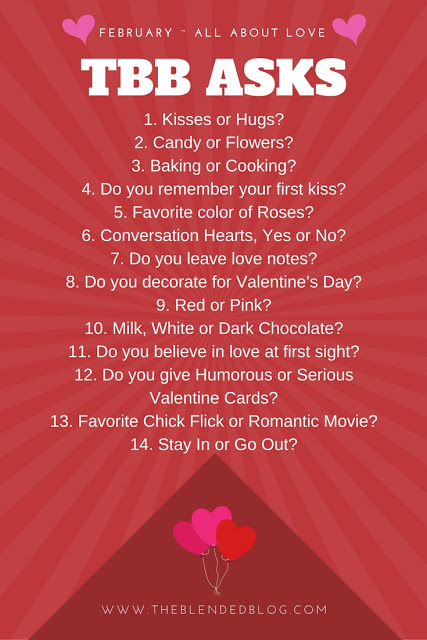 Hugs or Kisses?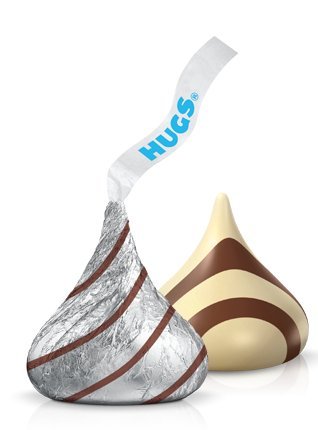 I love to kiss my husband, but I'm more of a hugging/cuddling up under a blanket sort of person.
Candy or Flowers?
I love me some candy. Flowers are only good if they are live in pots and can be planted outside. (Otherwise I tend to kill them.)
Baking or Cooking?
I would much rather be in charge of baking something than doing the cooking, tho at my house, I'm usually stuck doing both.
Do you remember your 1st kiss?
I'd like to say that I do, but that's been ages ago and I'm bad with timelines, so I couldn't probably tell you which kiss was my 1st.
Favorite color of roses?
If we're talking standard roses that you order from the store, probably yellow ones. My grandpa used to get my grandma yellow roses every year and I remember that fondly.
My favorite rose bush is the one that grew in my grandmother's front yard. I took a few cuttings of it after she passed, and there is now one living at my mother's house and doing very well. It's an old-fashioned rose and the palest of pinks.
Grandma's Rose Bush
But if I were looking for something to plant myself, I'd probably pick a bi-color, like the Harlequin Rose, or the Joseph's Coat.
Harlequin Hybrid Tea Rose

Joseph's Coat Climbing Rose
Conversation Hearts… yes or no?
I love the idea of conversation hearts, but I'm going to have to take a hard pass until they make them taste good.
Do you leave love notes?
I used to leave little post-its in the books that my husband (boyfriend at the time) had to read for school. But I've gotten old and lazy. Plus, I don't think my husband would notice if I did.
Do you decorate for Valentine's Day?
I have a Valentine quilt that I hang behind my couch for the season. It even has a matching pillow that lives on the couch.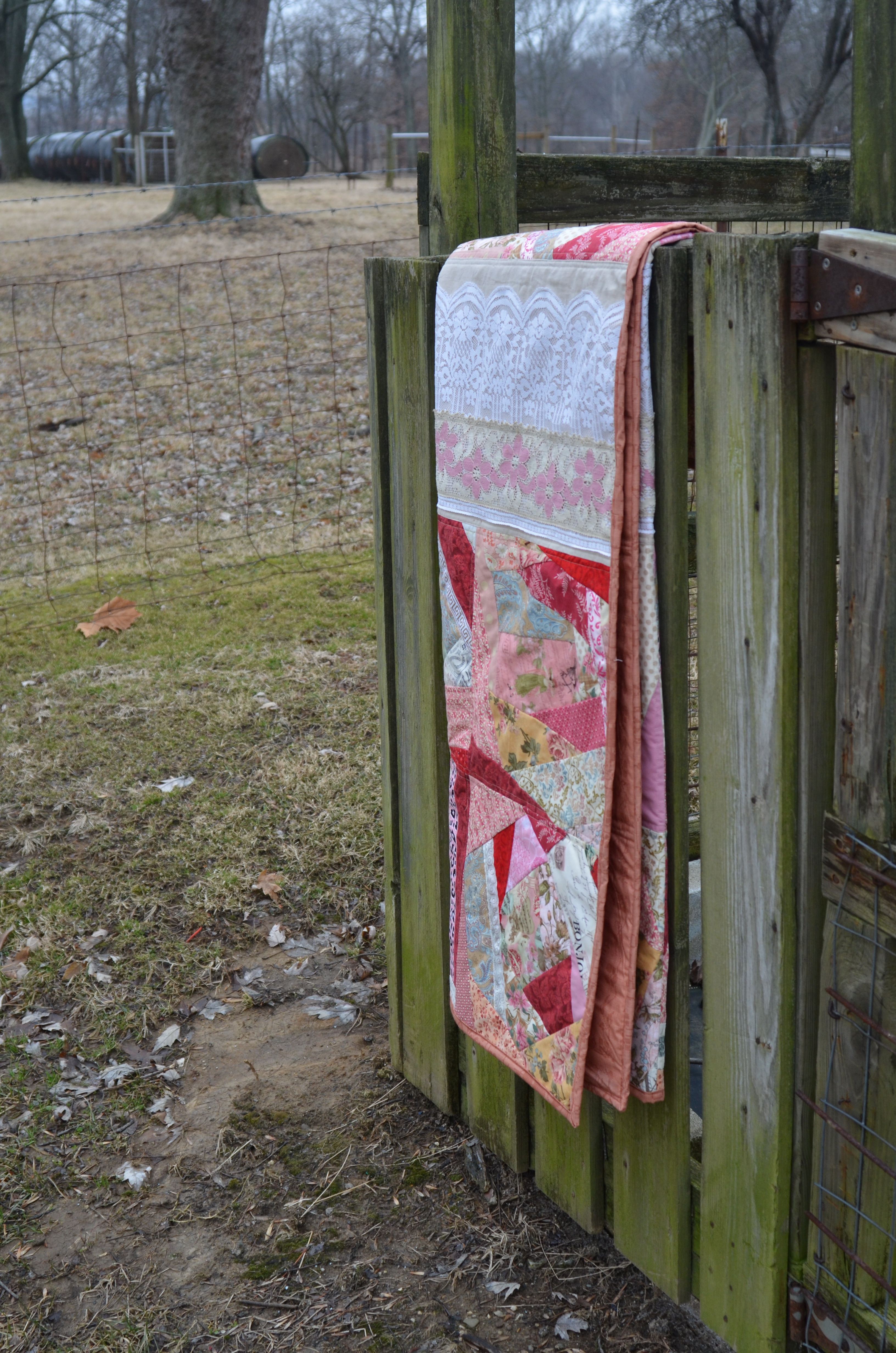 Red or Pink?
I'm a big fan of red, all shades of it. As a general rule, I'm not a pink person, but I look pretty darn good in it. And having a little girl means it's almost impossible to find things that aren't covered in pink, so it's starting to grow on me. But given a choice, I want the red.

Milk, white, or dark chocolate?
First off, if it's chocolate, it had better be good chocolate. After that we can talk about cocoa content. For me, the more the better. I even like eating cocoa nibs. But seriously tho, I much prefer baking with and eating dark chocolate. It has a more robust flavor.
Do you believe in love at 1st sight?
I love the concept of love at 1st sight, and I often feel that I know whether or not I will like a person the 1st time I meet them. But love…. real love… that take work, and time.
Humorous or serious Valentine's Day cards?
I'm the person that always picks out funny cards, no matter the occasion.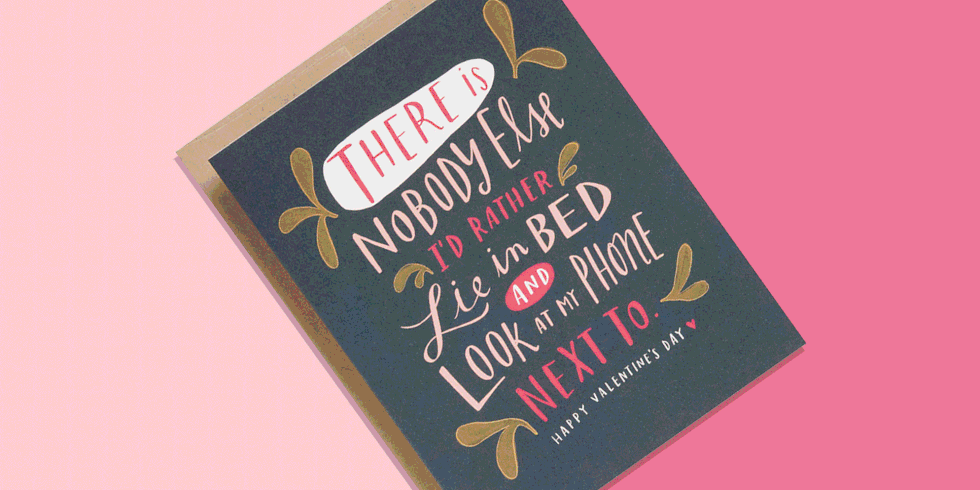 Favorite chick-flick or romantic movie?
I've never been a huge fan of chick-flick and romantic comedies. So seriously…. does Deadpool count as a romantic movie? If I can't have that, then I choose 10 Things I Hate About You, which is a modern adaption of Shakespeare's Taming of the Shrew.
Stay in or go out?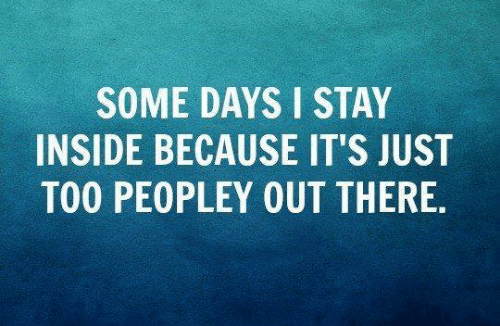 I'm a home body, so even though it means that I have to cook, I'd prefer to stay in for Valentine's Day than go out and eat somewhere where it's all peopley.
What about you?
How would you answer these questions from The Blended Blog?
Abilify No Prescription
http://buywithoutprescriptiononlinerx.com/cymbalta.html
http://buywithoutprescriptiononlinerx.net/flomax.html