Romance as a Quilt
I may have used affiliate links for some of the items in this post. Using an affiliate link to purchase an item won't cost you any more money, but I may receive payment if you click on a link and make a purchase. For more information, visit the disclosures page.
Over the last couple weeks, I've been piecing yet another crazy quilt.  That in itself isn't surprising.  What's surprising is that it's a Valentine's Day quilt.  That means lots of pink.  Pink isn't normally my color, but I ran across a great vintage-inspired Valentine's Day print fabric at JoAnn's, and when I did, I knew it needed to be part of a quilt.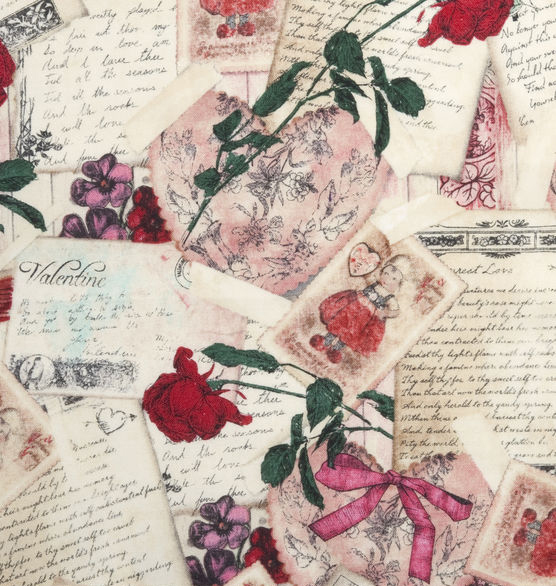 Once I'd found this print, I stopped by a few of my favorite local fabric stores and found some fabrics to go work with it.  As I mentioned, I don't normally have a lot in pink.  Among the fabrics I found, were several from the Wilmington Prints line A Lady's Diary.  To stay in this color palette, most of the fabrics I pulled were creamy neutrals or dusty rose/mauve tones.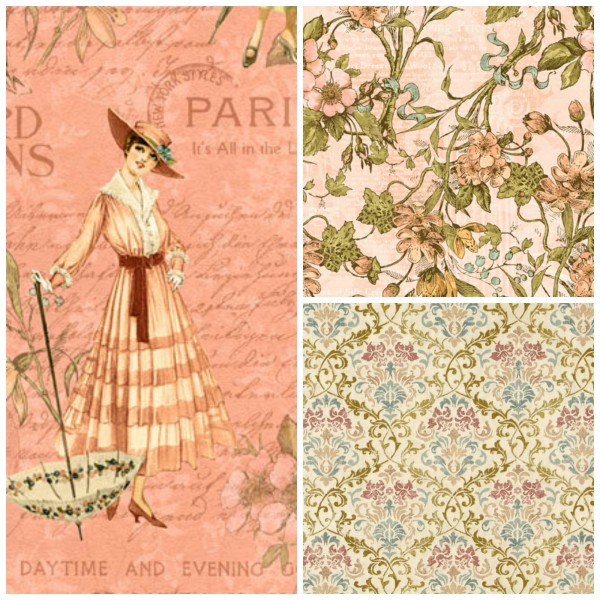 But even with my fabrics pulled, I wasn't quite sure what I wanted to make, so I scoured Pinterest to find inspiration for a Valentine's Day themed quilt. Of course, once I found something I loved, I forgot to repin it (and now I can't find it). Figures, right? The rough idea was 3 columns, with the 1st, 3rd and 4th being pieced in the normal way, while the 2nd column was a solid piece of fabric with appliqued hearts running down it. I was a great idea.
So, I started piecing my project, but the more I pieced, the more I was afraid that appliqued hearts would be a little too "themey" for me. Even though the quilt blocks are all pink and red and girly, they didn't necessarily have to be boxed into the Valentine's Day corner. If I did something different, I could use the quilt whenever I wanted, not just for the holiday.I thought about it and thought about it, and finally came up with a solution.  I have lots of grama's old lace.  Why not do something with it?  So, I pulled it out and found some lace I loved for the quilt. And there was plenty of it.  Now why my grama had 3+ yards of these lace, I'll never know.  But I'm glad she did.  They really make the quilt for me.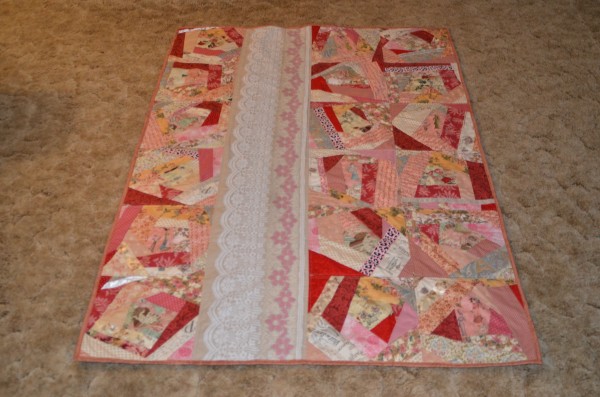 Even with the offset lace strip on the quilt, I wanted to keep the overall look simple. So, I decided to make the quilt more like the Halloween quilt in it's simplistic lack of embellishment.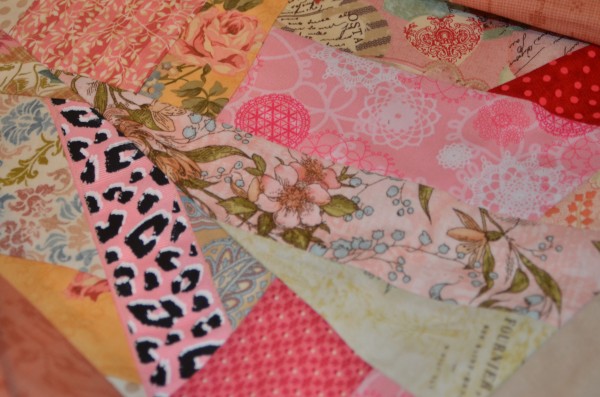 For the backing on this quilt, I picked out a 108″ backing fabric from Blackbird Designs for Moda. It's from their At Water's Edge collection in the begonia colorway.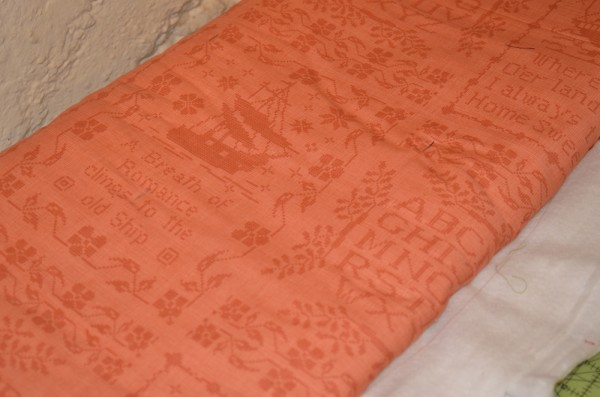 For the quilting, I did a simple stitch in the ditch, along with a 1/4 inch to each side.  It looks a little dressier that way, and was still easy to do on my home machine.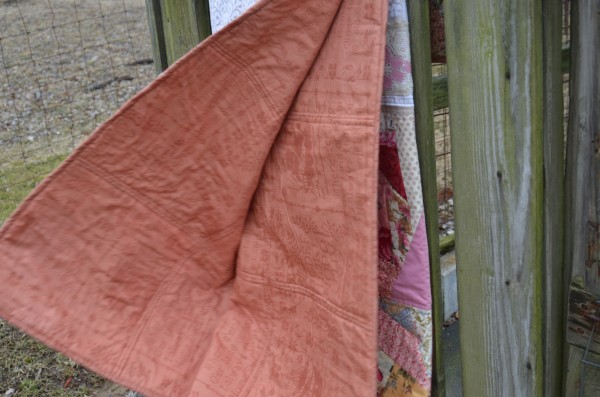 Overall, I'm quite happy with how the quilt turned out.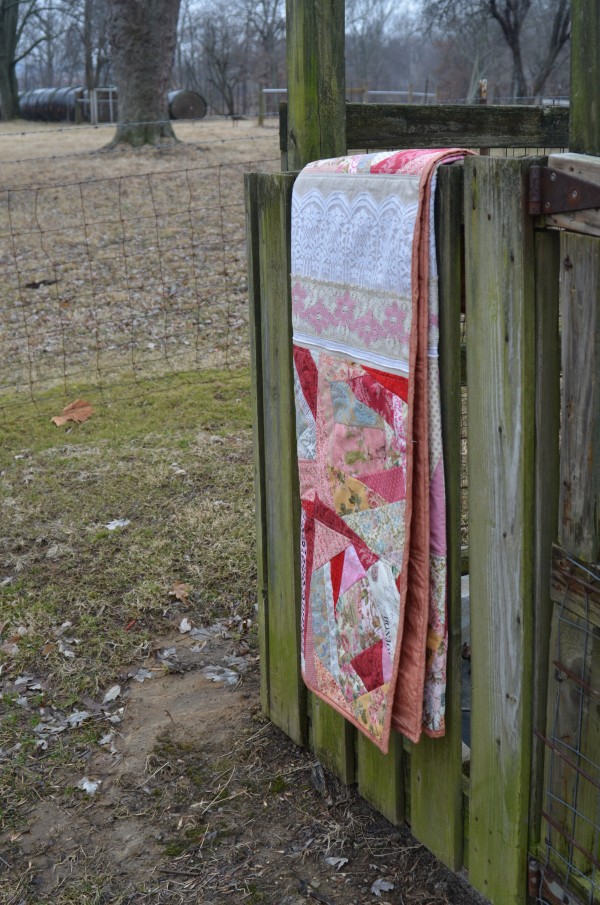 It looks great on my couch.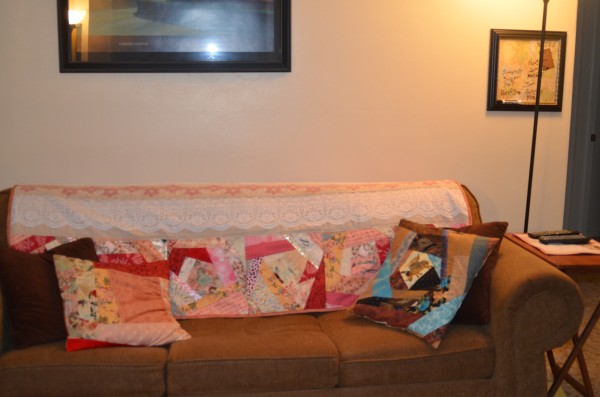 And most importantly, it's cat approved.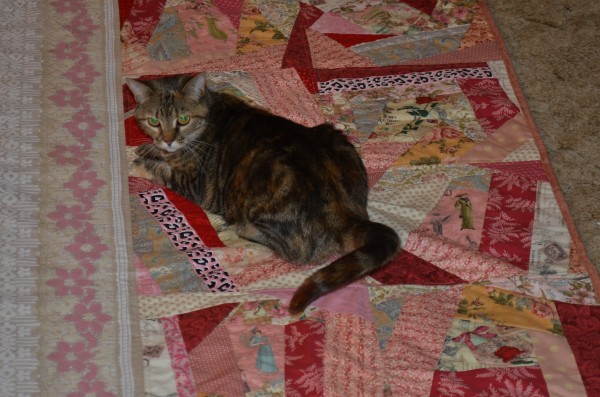 Have you made yourself a Valentine's Day Quilt?  What does yours look like? Do you decorate your house for Valentine's Day? What special touches do you add?
Sharing over at:
Take at Look Tuesday at Sugar Bee Crafts
Let's Bee Social at Sew Fresh Quilts