A Monster Taggie Blanket
I may have used affiliate links for some of the items in this post. Using an affiliate link to purchase an item won't cost you any more money, but I may receive payment if you click on a link and make a purchase. For more information, visit the disclosures page.
Since I didn't have enough leftover fabric from the crib sheet to do the backing of Huxley's monster quilt, I wanted to make something else with some of the fabric. I settled on a taggie blanket as a great way to use up some of the fabric.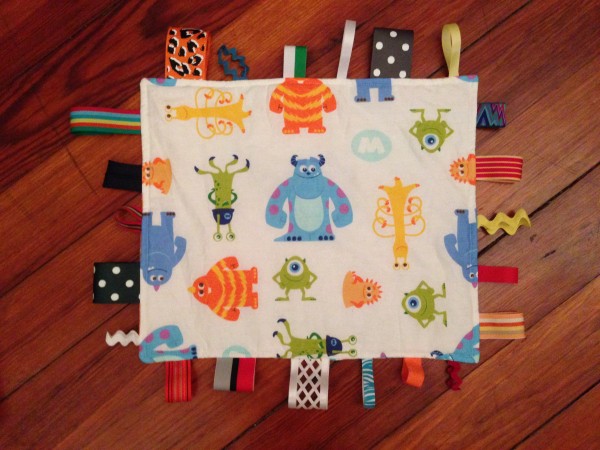 One side is pure Monster's Inc., using the fabric from the crib sheet. For the other side of the taggie blanket, I created a patchwork from the most of small scraps I had left from the Monster quilt. Each of the ribbons used in this taggie blanket is different. That's one of the best things about having a large collection of ribbon for crazy quilting. It gave me a lot of options. This has been one of the most enjoyable quilts I have made so far and I couldn't wait to show all of you guys! Let me know what you think of it in the comment section below. Monster's Inc is one of my favourite films ever! Whilst making this quilt I realised dressing as Sulley would be the perfect costume for Halloween this year. I couldn't believe I had never thought of this before. I've managed to find the perfect costume that makes you go rawr too. I'm counting down the days to Halloween already!
I didn't have a pattern for this taggie blanket. I just did what looked right to me. Have you made a taggie blanket before? What size do you make yours? Do you have a certain type of ribbon you prefer?
Sharing over at:
Thank Goodness It's Finished Friday at A Quarter Inch from the Edge, Finish It Up Friday
at Crazy Mom Quilts, Fabric Tuesday at Quilt Story