Once again, Anna has been gracious enough to share another one of her quilts with us. Today I am sharing with you Anna's very first quilt, and let me tell you, I am impressed.
She found the pattern in an old Good Housekeeping book on quilting. The patterns, colors, and fabrics screamed 1970s, which was when the book came out.
She jumped straight in at the deep end, choosing to make the
Storm at Sea pattern in two shades of blue, and white.
At the time, Anna says she had a very bad sewing machine, so the whole thing was hand-sewn and hand quilted over 3 years (1994-1997).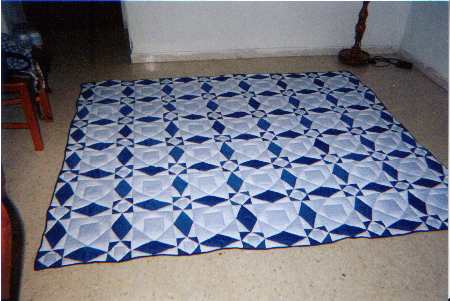 Anna says that it wasn't perfect – all four sides were slightly different in length. But she thought it beautiful, and I certainly agree.
If you would like to give this block a try, you can get the pattern for free at
Generations Quilt Patterns
.
Sharing over at:
TGIFF at Things I Make, Finish it Up Friday at Crazy Mom Quilts
9 Comments